Written by Barbara Bayer, Editor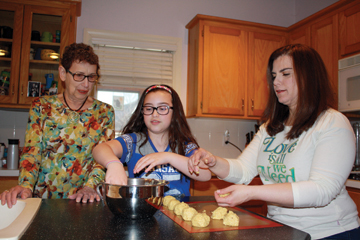 Eleven-year-old Bree Katz may not have known it when she was just a preschooler, but what started out as an afternoon of fun and family bonding has become something family and friends near and far enjoy, "Brianna's Cooking Show." 
The show stars Bree, a fifth-grader at Hyman Brand Hebrew Academy, and is produced by her older brother, 16-year-old Jacob, a sophomore at the Jewish day school. 
The first show was produced about seven years ago when Bree was only 4. Jacob wanted to play around with his new video camera and Bree was hungry. She wanted to make scrambled eggs. The rest, as they say, is history.
Looking back, Vicki Katz said early on the cooking show was a way for her two children to get her to cook something they wanted to eat.
"They always want me to cook and I want to get out of cooking sometimes," Vicki said. "As time went on, whenever they wanted me to make something, they would decide to make a cooking show."