Written by Barbara Bayer, Editor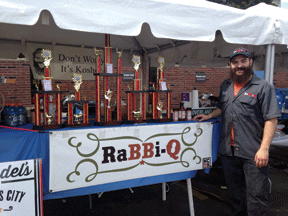 Rabbi Q — officially known as Rabbi Mendel Segal — has been very, very busy lately. Earlier this year the executive director and rabbinic coordinator of the Vaad HaKashruth of Kansas City launched his new product line, Mendel's Foods, LLC, and has hit the kosher barbecue circuit, proving once again he is a champion smoker.
On June 14 at the second annual Chicago Kosher BBQ Competition and Festival, Rabbi Segal's barbecue won first place in the chicken, brisket and beans categories and took third place with his ribs. The judges also crowned him the competition's grand champion.