Pianist Roman Rabinovich and the Haifa Symphony to appear at Kauffman Center
Published: Thursday, 20 February 2014 10:30
Written by Marcia Montgomery, Community Editor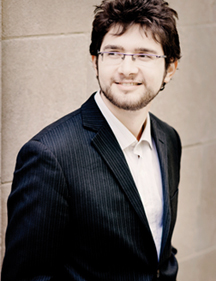 Success stories and self-help books claim it takes 10 years of continued practice and full-time study to become an expert in one field. Famed Israeli pianist Roman Rabinovich has been playing piano for 23 years. He's an expert pianist at only 28.
Born to pianist parents, Rabinovich loved the piano the moment he began playing. It didn't take much prodding from his parents for him to sit down, day after day, tapping those ivory keys.
"I grew up with music," said Rabinovich, who was born in 1985 in Tashkent, Uzbekistan, and immigrated to Israel with his parents in 1994. "I loved it from the very beginning. It takes all of my being."
Kansas City will proudly host Rabinovich when he performs Rachmaninov's Piano Concerto No. 2 with the Haifa Symphony Orchestra of Israel March 1 at the Kauffman Center for the Performing Arts as part of the Harriman-Jewell Series. The performance is part of the Orchestra's first United States tour, which includes 26 cities from coast to coast.
Rabinovich has been playing with the Haifa Symphony Orchestra since he was 10. He earned his master's degree from the prestigious Julliard School in New York and still resides in New York City. He calls it the "perfect place for a musician." This will be his first time in Kansas City and he is "very excited."
Winner of the top prize in the 2008 Arthur Rubinstein International Piano Master Competition, Rabinovich is known for the impeccable clarity of his execution and the vivacity of his performances. He has performed throughout Israel, the United States and Europe in such prestigious venues as Wigmore Hall, Carnegie Hall, the Lucerne Festival in Switzerland, Leipzig's Gewandhaus, the Metropolitan Museum, Salle Cortot in Paris and the Moscow Conservatory.
In early 2013, Rabinovich's debut recording, Ballets Russes: selections from Ravel's Daphnis & Chloe (arranged by Rabinovich); Stravinsky's Petrushka; and Prokofiev's Romeo and Juliet, was released. Rabinovich was honored with the Classical Recording Foundation Artist of the Year award for his new CD, which was also given a four-star review by BBC Music Magazine.
Rabinovich truly loves what he does and said to practice music takes "patience and hard work but when you do it right, it's worth it. The feeling of playing a piece well is thrilling."
For him, music also offers a spiritual outlet and is a great means of discipline and focus. One challenge of his career, which he welcomes, is to know the world in which a composer existed and then convey that to an audience.
"The performer brings it to life," Rabinovich said. "But to do that, he has to understand the composer and connect with the creator of the music."
Rabinovich plans to keep making that connection and doesn't plan on a career change anytime soon.
"I want to communicate my passion for music to people who appreciate it and I want to reach large audiences to share my enthusiasm for music," he said.
Despite his young age, Rabinovich has spent decades studying certain composers.
"After years of working with great pieces by Beethoven or Tchaikovsky for example, I discovered so many layers to the music. When a piece is truly great, I'm in awe. It's like when you see the Grand Canyon, you can't help but be affected. Music is like nature. It's awesome," he said.
Concert information
The Haifa Symphony Orchestra of Israel, featuring piano soloist Roman Rabinovich and principal guest conductor Boguslaw Dawidow, will perform at 8 p.m. Saturday, March 1, as part of the Harriman-Jewell Series. The concert will be held in Helzberg Hall at the Kauffman Center for the Performing Arts. Tickets may be ordered online at hjseries.org or call 816-415-5025 for assistance.