CBT encourages community to attend B'nai Mitzvah
Published: Thursday, 17 May 2012 12:00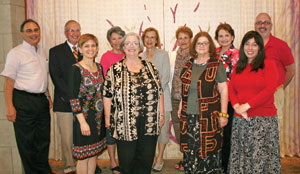 The May 26 Shabbat morning worship will include a simcha not often seen in our community — the B'nai Mitzvah of eight adults: Sherry Abramowitz, Adrianne Applebaum, Sue Crane, Barbara Gustin, Ron Jacobson, Audrey Myers, Maureen Salz and David Scott. The adults have been studying together since last fall with teacher Sherrill Parkhurst; they bring a wide spectrum of Jewish backgrounds and Bar/Bat Mitzvah perspectives to the classroom and the bimah.
"The students draw from a lifetime of religious experience ranging from classical Reform to Orthodox to being raised in another faith and choosing Judaism as adults," said Rabbi Vered Harris, education rabbi at Beth Torah. "Some of the students learned to read Hebrew as children and just needed a refresher; others are learning the skill for the first time this year."
Choosing to study Hebrew, attend Shabbat worship throughout the year and participate in mitzvah projects with the congregation and as a class is a big commitment. Rabbi Harris said the students have taken that commitment to heart over the past year as they prepared to read Torah, help lead worship and share a bit of their ongoing Jewish journey with the congregation.
"Technically, for Reform Jews, any Jewish person older than 13 plus one day is obligated to the commandments. However, in our day, reading Torah is a meaningful part of the passage into Jewish adulthood," Rabbi Harris explained. "For those who were not afforded the opportunity at 13, or for those who did not have a positive experience the first time around, an adult Bar/Bat Mitzvah allows us to capture the power of standing at the Torah accepting and relaying our holy text."
Rabbi Mark Levin said he hopes the commitment and dedication of the students in the adult B'nai Mitzvah class at Beth Torah will encourage others throughout the Jewish community.
"Adult B'nai Mitzvah are affirming their faith at a stage in life when they have reflected and decided: God and Judaism are important in their lives," he said. "Every adult Jew should consider not 'whether' but 'when' they are going to read Torah and affirm their place in the chain of Jewish history."
Shabbat worship, including the adult B'nai Mitzvah, begins at 10:30 a.m. Saturday, May 26, at Congregation Beth Torah.