New Hy-Vee kosher section set to appeal to surrounding Jewish area
Published: Thursday, 28 February 2013 12:00
Written by Barbara Bayer, Editor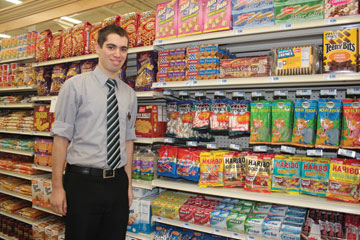 The nasty winter weather that impacted Overland Park Monday night and Tuesday morning may have kept the Jewish community away from the opening of the new Hy-Vee store located at 8501 W. 95th Street, but when they do visit they will be greeted by a wide selection of kosher goods stocked by the Iowa-based grocery chain. The kosher cases aren't even completely filled yet.
"We didn't get our complete delivery of meat yet," said Kosher Department Manager Meir Anton as he showed off the dry good shelves, dairy and meat cases in the 80,000-square-foot store.
Anton explained the store, which is open 24 hours a day, seven days a week, currently assigns a 36-foot aisle to dry packaged goods. Two separate cooler sections, a total of 14 feet of space, are devoted to kosher dairy products and meat.
This is comparable to the space devoted to kosher foods by Hen House Market at 117th and Roe Avenue in Leawood. Hen House is the only retail store in the area where consumers can purchase kosher foods freshly prepared on site.
"I think our section is at least as big as the one at Hen House," Anton said. "I don't think there's any other local store that devotes more space to kosher products than us."
This will be the biggest kosher section for Hy-Vee anywhere in the market, according to Jeremy Bergman, the store's manager of perishables.
"It's at least three of four times the size of the kosher department either the 91st Street and Metcalf store had or the one at 95th and Quivira had," he said. "It might even be the biggest kosher section company wide."
"Everything is brand new. It's a nice, pretty, big section," Anton added.
Unlike Hen House, Hy-Vee is not currently under the supervision of the Vaad HaKashruth of Greater Kansas City. If it chooses to offer fresh kosher offerings in the future, such as an occasional kosher night, Anton said Hy-Vee will seek the proper certification.

Catering to the neighborhood

The grocery store is located within walking distance of Congregation Beth Israel Abraham & Voliner and the boundaries of the eruv where a large number of observant Jewish families live. Kehilath Israel Synagogue and the Torah Learning Center are also located close to the store.
Chaim White is an observant Jew who lives close to the store and operates KC Kosher Co-op. He first approached Hy-Vee about establishing a kosher section to cater to the nearby Jewish population more than a year ago when he heard the company was closing two stores and merging them into this large, brand-new store.
"I explained to them the proximity to the BIAV community and the importance the kosher section could have," White said.
After that first meeting, White actually plotted out on a map every Jewish home he knew about that was in a one-half mile radius of the store using a computer program. He believes there were more than 100 pinpoints on the map.
Bergman, who had worked at the 91st Street store, said the company was already aware there was a calling for a bigger kosher section at that location. Once Hy-Vee investigated the new area and met several more times with White, Anton said the company decided to initiate a large kosher section and "see how it works out."

Stocking the shelves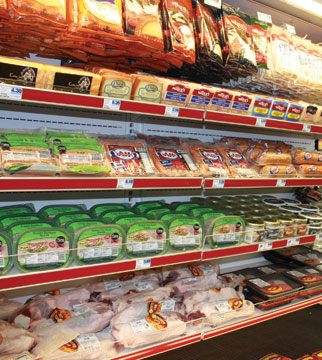 White's KC Kosher Co-op, which has a product catalog containing thousands of items, currently serves as this Hy-Vee's kosher dry goods supplier.(The co-op does not supply the store's meat.) In fact he and his wife Katie actually helped Anton physically stock the shelves before the store's grand opening this week.
"Hy-Vee is a pretty awesome business from what I've seen so far," said White, who helped store employees determine what to put on shelves initially based on past buying choices of KC Kosher Co-op customers.
In the future, Anton will handle all the ordering responsibilities. He said the store's meat selections currently include beef, chicken, lamb and cold cuts. Anton believes this Hy-Vee carries more Israeli products than other stores in the area as well as a large number of Chalav Yisroel products, including yogurts, cheeses and other refrigerator/freezer items.
The store also carries Farm to Market bread, many of which are kosher, because the product line was specifically requested by potential customers.
"Be sure to check the certification," Anton pointed out.
He added that the store will also carry freshly baked kosher challah every Thursday and Friday. Unlike the other Farm to Market breads, which can be found in the bakery section, challah will be located near the kosher aisle for customer convenience.

Specializing in customer service

Anton said customer requests are welcome and encouraged.
"Unlike other stores, I have more freedom to order things that people would like. Each store has the autonomy to order what it needs," he said.
Another thing Anton and Bergman want customers to know is that customers can always count on fresh meat and dairy.
"Anything we sell fresh is thrown out two days before its expiration date," he said.
Anton was hired in early February and has served as a mashgiach at a meat plant south of Wichita. He is attending classes at Johnson County Community College, in addition to his full-time job at the store, in pursuit of a business degree. He grew up in Israel, moved to the United States when he was about 15, lives about a mile away from his new place of employment and is a member of BIAV.
"We are really hoping the community supports us. It can be hard to get to Hen House at the last minute just before Shabbos. This is very nice and very convenient," said Anton, who as a kosher consumer himself thinks he has the insight into what people want to purchase.
Anton believes Hy-Vee's prices in the market are competitive as well.
"I've done some comparison shopping and I think our prices average 20 percent cheaper than at other stores," he said.