Rebuilding and celebrating life in a Polish cemetery, despite all we've lost
Published: Thursday, 29 June 2017 10:00
Written by Avery Parkhurst, Guest Columnist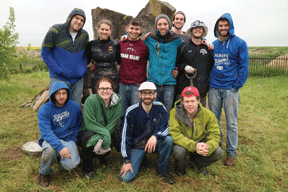 I am a senior studying music performance at KU, and am a graduate from the Hyman Brand Hebrew Academy. When I first saw the flyers for the HBHA alumni trip to Poland, I had a few hesitations about signing up. I had been to Poland before. I had seen the mass graves, and the camps — cried in the gas chambers of Auschwitz, and felt the debilitating numbness that can only be felt in Majdanek. For me, Poland was a necessary stop in discovering my Jewish identity, but it was also where Jews go to die. I left believing that an entire country was an anti-Semitic graveyard defined by the Holocaust and years of Nazi occupation. For me, the only reason to return was to correct something I felt was wrong, to reconcile the terror I had felt in my last visit. So I signed up almost blindly, not knowing exactly what my week back in Poland would entail. I received an itinerary that mostly consisted of "cemetery work" — whatever that meant. What happened in that week was unforgettable and deeply important to my life as a Jew.
First and foremost, our group of 10 alumni were not tourists in Poland. Most of us had already been to Poland and the camps, and none of us needed reminding of the horrors that took place there. Instead we were a team sent on a single mission, through the generosity of Sam Devinki, to restore the place where his ancestors had lived out their lives. Our first two days were spent in Warsaw with HBHA alum Rabbi Yehoshuah Ellis, where we spent Shabbat in the vibrant and very much alive Jewish community. It was awe-inspiring to see so many people in shul singing and dancing during Kabbalat Shabbat in a place where so many Jewish lives were shattered. The synagogue itself had been repurposed during the war as a storage shed for the Nazis, and now holds regular Orthodox minyans. For those of us who visited, this was a clear, unfiltered demonstration of how Jewish life still very much exists and thrives in Poland. 
After an extremely meaningful Shabbat, we were ready to begin our drive to the small village of Wodzislaw, where Mr. Devinki's family is buried. Rabbi Ellis — our primary organizer and chief rabbi of Upper Silesia — joined us as well as Steven Reece, a pastor (and mensch) who's organization we would be working under, and a man named Alex, who spent years in the field searching for lost Jewish burial grounds and establishing them as sacred sites throughout Poland. The village of Wodzislaw was a small shtetel in which Jews had lived and worked for hundreds of years before the war. At certain points during its history Jews consisted of well over half of the population. During World War II the village became a ghetto, where Jews from all over Poland were held before transport. Today there are no traces left of Jewish life, aside for the remnants of a cemetery and an old half-demolished synagogue. Many of the locals have no idea of their town's Jewish heritage, and many have never met a Jew before.
The cemetery itself had been divided by a highway paved straight down the middle, with one side designated by the country as a holy Jewish site, and the other a farm. At the time of the Holocaust, the cemetery had been demolished by the Nazis and used for mass graves. Over the years the headstones were vandalized, repurposed and stolen by the people of Poland until just before the turn of the century when the site was rediscovered as a cemetery. At that time, another group came in and set up a perimeter fence and a stone monument, designating the plot. Any headstones that were found were piled haphazardly against the fence, clearly without any regard for preservation or value.
Our team had two tasks to accomplish during our stay. First, to restore the fence around the perimeter, which had rusted over from more than 20 years of weather damage. Second was to find and catalog all of the headstones in order to preserve any lives commemorated there. Through three days of back-breaking labor in both the summer heat and rain, we managed to catalog 14 complete stones that contained the names and dates of Jews from this shtetl town. One of those people happened to be a member of Sam Devinki's family (Braun), who's headstone had been returned to us by one of the local townspeople. After word got around about our work, many stones were returned — and in one very interesting case, taken — in this manner. All of this information was sent to an organization that archives the names, contacts relatives and descendants, and links them with GPS coordinates to the burial location. 
We were also able to be the first minyan to say Kaddish at a mass grave discovered by Alex, which had not been previously known to exist since its formation during the Shoah. In the process of digging through the massive pile of stones and cement, we discovered human bones which had been desecrated and moved from their original resting place. As a group, we chose to wrap these remains in a tallit, bury them properly according to Jewish law, and commemorate them with a small (but beautiful) stone fragment. Finally, we were able to separate every fragmented headstone from layers of useless cement and organize them by color, style, design, etc. to be used by a professional artist in building a memorial within the next year. 
To summarize everything that took place in those three days in 900 words or less is simply impossible. What I can say is this. The work we did was some of the most satisfying, interesting and important work I have ever accomplished in my life. It is so easy as a Jew to get caught up in the narrative of the Shoah. To witness the horrors through inherited memory. To be afraid of Poland and its people, and to let the pain of death control our Jewish identity. The truth, however, is immeasurably more complicated than that. The truth is that behind the scars left by the war is 1,000 years of Jewish life and survival. The truth is that life still exists, under layers of dirt and rubble, and in the bittersweet sound of Kabbalat Shabbat. The truth is that my generation may be the last to meet a survivor, and it is no longer enough just to remember. Now is the time to rebuild and to celebrate life, despite all we've lost. The work we did is just a scratch on this surface. I truly believe that this restorative work in Poland is the next step for young Jews in reconciling the Holocaust. It demands the attention of everyone in our Kansas community, and indeed the whole world. If anyone wishes to learn more about the trip, to hear the in-depth stories, and to get involved, I encourage you to reach out to me, or to the many people who continue to do this work every day. 
(Editor's note: Sam Devinki is in the process of hiring a contractor to properly display the memorial stones, in what he said is the next step to restoring honor to the cemetery.)
Avery Parkhurst, a 2013 graduate of HBHA, can be reached at This email address is being protected from spambots. You need JavaScript enabled to view it.. To learn more about caring for and restoring Jewish cemeteries in Poland, visit The Matzevah Foundation website at matzevah.org.