New award winning Jewish fiction will provoke discussion
Published: Thursday, 08 June 2017 12:56
Written by Andrea Kempf, Contributing Reviewer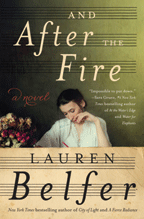 "And After the Fire" by Laura Belfer. (Harper Collins, 2016) 451 pages
Laura Belfer's latest novel "And After the Fire" recently won the National Jewish Book Council's award for Book Clubs. The novel spans the period of time from present day New York City back to the 18th century amidst the wealthy Jewish community of Germany. It begins in the present when Susanna Kessler inherits a musical manuscript from her uncle. The manuscript is very old and appears to be the work of Johann Sebastian Bach. Not knowing what to do with this inheritance, Susanna places it in her safety deposit box and begins to investigate.
The novel shifts back to the Itzig Levy family in Berlin. Sara Itzig is a gifted musician and the pupil of William Friedermann Bach. For her wedding, William Friedermann gives Sara an unpublished manuscript of his father's which contains text from Martin Luther's Bible that is profoundly anti-Semitic. In fact, Sara's family existed historically and included her great nephew and niece Felix and Fannie Mendelsohn. In the novel, this manuscript passes secretly from generation to generation. Now, in present-day New York, Susanna is trying to verify its provenance and discover how her uncle came to own it.
Belfer masterfully depicts the life of the wealthy Jewish community in late 18th century and 19th century Germany. She portrays the unabated anti-Semitism as well as the social friendliness of many Germans to their Jewish neighbors. She demonstrates how conversion to Christianity, as in the case of Felix and Fannie Mendelssohn, whose parents had added Bartholdy to their last name to hide their Jewishness, did nothing to prevent the anti-Jewish attacks of Richard Wagner on his composer rival.
This novel of more than 400 pages is definitely a page-turner. Every character is troubled but trying to improve her or his life. Book discussion groups will find enough material to talk about for hours. Laura Belfer has done a prodigious amount of research and she writes engagingly about her characters. This book definitely merits its award.
Andrea Kempf is a retired librarian and award-winning book reviewer who speaks throughout the community on various topics related to books and reading.