My first AIPAC Policy Conference left me feeling hopeful
Published: Thursday, 06 April 2017 10:18
Written by Shiran Cohen, Guest Columnist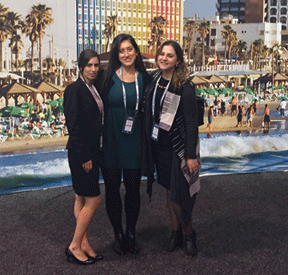 The American Israel Public Affairs Committee, AIPAC, is a lobbying group that advocates pro-Israel policies to the Congress and executive branch of the United States. AIPAC has more than 100,000 members and 17 regional offices all over the U.S. and was founded in 1951.
My first AIPAC Policy Conference experience was outstanding. This year, 19,000 people attended the conference in Washington, D.C. Approximately 4,000 of those delegates were American students. Imagine 19,000 people from various backgrounds: Jews, Christians, Republicans, Democrats, conservatives, and liberals coming together with one important mission: to support my homeland, Israel! The conference title was "Many Voices. One Mission," and I truly felt that theme was reflected throughout the conference. 
AIPAC's mission is to strengthen, protect and promote the U.S.-Israel relationship in ways that enhance the security of Israel and the United States. Its 2017 lobbying agenda includes three major issues: counter Iran's regional aggression, support security assistance to Israel and a robust foreign aid budget, and fight the delegitimization of Israel. 
Today, Iran possess the largest stockpile of ballistic missiles in the Middle East, funds and arms Hezbollah and continues threatening Israel. U.S support to Israel is crucial to Israel's security. And with ISIS, Hezbollah, Hamas and other terrorist groups, Israel must stay strong and ready to face any challenge. Beyond that, Israel faces international organizations that seek to stigmatize, delegitimize and isolate the Jewish state every day. One of them is the BDS movement, which stands for Boycott, Divestment and Sanctions.   
There were many global leaders presenting different points of view at the conference: U.S. Vice President Mike Pence, former Canadian Prime Minister Stephen Harper, former British Prime Minister Tony Blair, Rwandan President Paul Kagame, Israeli MK Isaac Herzog and many more.
I was inspired the most by the U.S Ambassador to the United Nations Nikki Haley, who talked about the way the U.N. mistreated Israel, as well as her hope to change this culture. 
During the conference, I kept thinking about my friend's grandfather, who was a Holocaust survivor. One day he asked me, "What is the strongest emotion a person can feel." Without thinking too much, I answered, "There is one answer of course, love." He smiled at me and said, "Not love, kiddo; not love but HOPE." I came back from Washington with a lot of hope. Hope for a better future and a real hope for the peace of the land of Israel one day.
The conference was an emotional experience for me as I experienced it through my Israeli lens. When people talked about the Iron Dome I remembered the sounds of the rocket that fell in front of my neighbor's house. When they talked about investing funds in David's Sling (Israel Defense Forces military system of medium- to long-range rockets and cruise missiles), I thought about my IDF service when I taught soldiers how to launch those rockets to be as accurate as possible. When they talked about the future I thought about the smiling faces of my nephews. Israel is all about hope and making the impossible possible! 
I am grateful for this important support. America has always been Israel's strongest ally, and it feels great to know that we are united in keeping Israel a Jewish-democratic — and a safe — place.  
As John F. Kennedy said, "Israel was not created in order to disappear. Israel will endure and flourish. It is the child of hope and the home of the brave. It can neither be broken by adversity nor demoralized by success. It carries the shield of democracy and it honors the sword of freedom." 
This year 60 people from Kansas City joined the AIPAC conference. I invite you to join me for the next conference in Washington, D.C., March 4-6, 2018. 
Shiran Cohen is the Jewish Federation of Greater Kansas City's Israeli emissary. She hails from Kiryat Yam.