Disconnect to connect: JWRP is the gift of a lifetime for Jewish moms
Published: Thursday, 02 March 2017 12:16
Written by Dawn Aronoff, Guest Columnist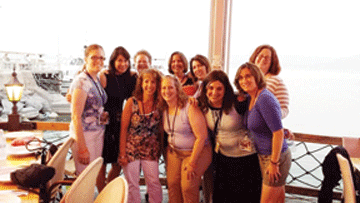 Applications are currently being accepted for the Jewish Women's Renaissance Project's 2017 eight-day Israeli journey, co-sponsored by the Kansas City Kollel. I had the opportunity to participate in this program in the summer of 2014. I was not seeking the trip, and no one was encouraging me to go. I randomly ran into a woman I had never met before who asked me if I wanted to go to Israel — I said sure.
This was a trip intended for Jewish mothers with the philosophy that if moms can be inspired to be more connected to their Judaism, then they can inspire their families, which can then inspire communities. I completed the application and was accepted to go. Though leaving my family for 10 days took some planning, my kids were old enough, my daughter drove, and my husband is more than competent. I had no reason to say no.
Going on the trip meant that I had to disconnect from all the tasks that shape my day. In my mind I had an idea of what I wanted to connect to, I just didn't know how it would take shape.
I have many dear friends whose faith is the core of their being. They speak about G-d freely, they offer prayers, they study to better understand their faith, but none of them are Jewish, and though I have tremendous respect for them, I found myself seeking my own voice in my own faith.
For the most part, I have done a good job of performing my Jewish duties. My kids have been through religious school, we have celebrated Bar and Bat Mitzvahs, and attend services sporadically. As my kids got older and my life got busy with their activities, I stopped pursuing any form of deepening my faith, and I began to recognize that I was simply going through the motions. Someone asked me why I had decided to go on the trip, and I replied that my spiritual life was much like a donut — good looking and sweet on the outside, but had no core. The core is what I was seeking.
The first night was a dinner on the shore of Lake Kinneret. It was to be followed by dancing so that the 200 women on the trip would have a chance to break the ice and bond with each other. Instead, we were told that the bodies of three boys who had been kidnapped before we had arrived in the Jewish state had been found and we would not dance.
I had not followed the story closely, and was moved by the emotions of many of the women. Instead of dancing, a few women started singing and soon the whole group was singing and standing together for these families. At that point, I knew this trip was going to be way more than a tour of Israel.
The real connection for me came from the classes. The topics were familiar but it was the first time I had heard them through a Jewish perspective. The leadership trainings I had attended and the personal growth books I read became so much more powerful to me when I was able to connect them to my faith and not just becoming a better person. 
Celebrating Shabbat in Jerusalem was one of the highlights. Not only was my sister with me but we started with a guitar rocking ultra-Orthodox rabbi wearing a big fur hat. At the Kotel, we gathered around a song leader. As our group continued to sing, other women began to join us. Teenagers jockeyed to the front and other women joined in the back. As we were singing, I looked up and saw men in black hats, teenagers and families all coming down to the Wall, and I really felt like I had found my voice. I wasn't trying to fit in, I just did.
We had Shabbat lunch in a private home and ate the last meal of Shabbat in the Old City in a home that overlooked the Kotel and Dome of the Rock. What struck me is that we recite so many prayers that speak of Israel and Jerusalem and here we were living out those prayers.
Every day of the trip was defined by sweat and/or tears. A passionate IDF soldier shared his story of brutal anti-Semitism in Britain and why he chose to serve and protect Israel. We visited One Family, a nonprofit that serves the families and victims of terrorist attacks. We also toured Yad Vashem, the Holocaust museum, and visited an IDF base where we delivered gift bags from Thank Israeli Soldiers. 
Most trips show you the body of Israel — the desert, the Dead Sea, Jerusalem … but this trip exposes her soul. I not only saw the body and soul of Israel, but I got a glimpse of my own soul. 
Now sitting here in 2017, I cannot quantify the changes, but I can say that my desire to learn more and explore Judaism has deepened, and my loyalty to Israel is non-negotiable. And of course, my family loves that I love to bake challah!
Anyone interested in more information about the WJRP/KC Kollel trip should contact Andrea Levitan at This email address is being protected from spambots. You need JavaScript enabled to view it..