Written by

Ellen R. Portnoy, Contributing Writer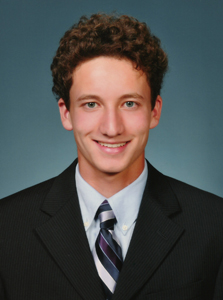 Charles "Charlie" Wolock, a senior at Blue Valley North High School, recent learned he had earned two perfect scores and not just any perfect scores. Charlie achieved perfect scores in both the ACT and SAT college entrance exams. He is one of a select group who has accomplished this feat.
"Charlie is a bright guy with an excellent memory and is a great test taker," said his mother Barbara Wolock, MD. She believes it was a combination of these two things, as well as the great teachers he has, that has enabled him to achieve these scores.
Charlie, the son of Barbara and David Wolock, is modest. "It was not a really huge deal for me," he said about his scores. "I knew I was pretty close, and I already had a perfect ACT score, so I did not think it changed my chances for college too much." He found out about his perfect SAT score in October; his perfect ACT score this past summer.
Although, he did not study for these tests, he did take each one twice, and thinks that helped. "I have always been good at test taking," he added.
Tonya Merrigan, Ph.D., Blue Valley North principal, has her own opinion about him. "Charlie Wolock is very worthy of these academic accomplishments," she said. "He set a goal for himself on both the ACT and SAT and persevered until he reached this accomplishment." She added that no other Blue Valley student has gotten perfect scores on both tests since the SAT changed several years ago.
In fact, according to the 2010 Book of Odds, Inc., only one of 5,152 students who take the SAT achieve a perfect score, and one of 2,320 get a perfect ACT score. There were no statistics on the number who score perfectly on both. More than 1.5 million students take each exam.
A National Merit Semifinalist, Charlie has applied to be a finalist in this prestigious college scholarship program. But his college choice is not yet certain. He wants to attend a small liberal arts school and study something in science.
Charlie likes the unique. He is a member of the Blue Valley North Mustang's marching band and concert band, playing the bassoon. "I thought it would be fun," he said, "because it is not the typical band instrument."
Being untypical is the usual for Charlie. "He is humble and unassuming," stated Michele Radio Buche, his high school enrichment teacher. "Yet, Charlie is his own original. He is intrinsically motivated to learn and discover his own future. He cultivates his own set of broad interests."
But he also achieves in other areas. Charlie is the president of the school's Spanish club, captain of the boys tennis team, a freshman mentor, and a member of the Categories Team that competes in the Scholar's Bowl. With all these activities, he still takes an impressive course load with five AP classes in his schedule this fall. As an honors student, he maintains grades that reflect his membership in both the National Honor Society and the Spanish Honor Society.
Charlie's many extra curricula activities include volunteering at Congregation Beth Torah, where he is a religious school madrich. "Charlie has been a wonderful asset to our teachers and students for four years. He has always been modest about his accomplishments, and he makes a great role model for our fourth graders," stated Marcia Rittmaster, Beth Torah's religious school and youth groups director.
"I always wanted to be connected to my synagogue," Charlie said about Beth Torah, where he became a Bar Mitzvah. "So I decided to help out with Sunday school classes."
Rabbi Mark Levin got to know Charlie's views on religion through the congregations confirmation class and the essays each student writes. "Charlie is a real mensch to have around," Rabbi Levin said. "But behind his eyes, he has such a deep insight and understanding of the difficult concepts of how religion works. His level of understanding is uncanny."
Which, some might say, is just perfect.