Written by

Keith D. Cohen, Contributing Reviewer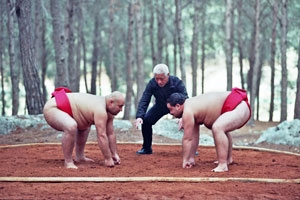 People are often criticized and looked on with disdain for being fat. "A Matter of Size" puts a comedic spin on being overweight. This endearing romantic comedy is the closing night film of the 13th annual Kansas City Jewish Film Festival. Its exclusive showing will be at 7:30 p.m. Sunday, March 13, at the White Theatre.
Herzl (Itzik Cohen), age 35, suffers from low self-esteem mainly attributable to his obese girth. He feels like he has an incurable disease every time he steps on a scale. His earliest childhood memories are of being called "fatso" or "Mount Herzl."
He lives with his seamstress mother, Mona (Levana Finkelstein), in the central Israel city of Ramla (ironically, a sister city of Kansas City). His latest efforts to drop kilos have been deemed a waste of time by weight loss counselor Geula (Evelin Hagoel).
Herzl gets a new job washing dishes at a Japanese restaurant. He sees on television Sumo wrestling for the first time. This revelation opens his eyes to the possibility of an athletic endeavor where his hefty bulk is advantageous. He decides to start a Sumo wrestling club.
Herzl persuades his three friends, Aharon (Divir Benedek), Gidi (Alon Dahan) and Sammy (Shmulik Cohen), to quit the dieting program and join him as part of Ramla's Sumo wrestling team. They convince Kitano (Togo Igawa), the owner of the restaurant and a former Sumo referee in Japan, to serve as their coach. They clean up an old warehouse that becomes their training facility. Their goal is to wrestle in a locally-held competition with the winner representing Israel in a Japanese tournament.
Herzl becomes attracted to Zehava (Irit Kaplan), a pretty zaftig girl. He invites her over for Shabbat dinner. Mona tells Herzl she wants thin grandchildren and thinks Zehava is too fat. Zehava overhears these cruel remarks. Herzl tries to smooth things over with Zehava. A humorous scene takes place at Zehava's abode concerning whether to leave the lights on or off during sex.
Zehava has a black belt in judo and Herzl invites her to train alongside the men. Kitano hurts Zehava's feelings when he tells her that women are not allowed to participate in Sumo. When Zehava walks off crying, Herzl follows after her and tells her he is quitting Sumo. This turns out to be a lie.
Besides the budding relationship between Herzl and Zehava, every character has their own side story that becomes a subplot. One of the priceless scenes that will have you in stitches is when these four men walk through the city wearing only the traditional bright red mawashi that look like loincloth diapers. The last reel involves a series of competitive matches where the objective is to push an opponent out of the "dohyo" (the ring) to win. The movie ends on a cute upbeat note with Herzl in the hallway outside of Zehava's apartment.
The delightful screenplay triggers an inspirational spark of self-acceptance, especially for fat people who can come out of their closets with pride. The acting is very natural and convincing. The movie debuted at the 2009 Tribeca Film Festival. It has played at more than 50 Jewish film festivals around the world.
"A Matter of Size" received 13 Ophir nominations (the equivalent of our Academy Awards), which was the most of any Israeli film in 2009. It won awards for best costume design, best actress (Kaplan) and best supporting actress (Finkelstein). The superior quality of the film is reflected in the other nominated categories for best film (lost to "Ajami"), best director, best actor (Itzik Cohen), best supporting actor (Benedek), best screenplay, best editing, best cinematography, best sound, best music and best art direction.
Harvey and Bob Weinstein were so impressed with this cinematic gem that they have bought the rights for an American remake. This feel-good romantic comedy, in the same vein as "The Full Monty," is not afraid of featuring big-bellied men. It has a running time of 90 minutes and contains sexually suggestive material. The dialogue is in Hebrew and Japanese with English subtitles. It gets my vote as the second best film of this year's festival and a rating of good (3 stars out of 4).
Below is a full list of the seven films scheduled to be shown at the 2011 Jewish Film Festival March 5 through March 13 at the Lewis and Shirley White Theatre at the Jewish Community Campus.
Tickets and Festival Passes may be purchased online at kcjff.org, by calling (913) 327-805, or in person at the White Theatre.

'ANITA'
Saturday, March 5, 7:30 p.m. plus Opening Night Dessert Reception, Spanish with English subtitles
Additional Pre-Film Reception for Festival-Pass Holders Only
In the wake of the 1994 bombing of the Buenos Aires Jewish Community Center, a young Jewish woman with Down syndrome searches the city for her mother, receiving help and companionship in unexpected quarters through the simple force of her ingenuous personality and open heart.

'The Yankles'
Sunday, March 6, 1 p.m., English
In this fun-for-the-family feature, a washed-up major leaguer gets a second chance — as coach of a yeshiva baseball team. After a rough start, he finds a home with "The Yankles," and with his help, the team strives for success on the field, while their coach works to rebuild his reputation and his relationships with those whom he wronged in the past.

'The Little Traitor'
Sunday, March 6, 6:30 p.m., English
Family Night: Appropriate for ages 7 and up, with free babysitting available for younger children. Reservations required.
Starring Alfred Molina and featuring Theodore Bikel, this is a tale of the unlikely bond between a kindly British soldier and a spirited Jewish boy set against the backdrop of the birth of the state of Israel — based on the acclaimed Amos Oz novel, "Panther in the Basement."

"Nora's Will'
Monday, March 7, 7:30 p.m., Spanish with English subtitles
In this dark comedy, a woman orchestrates her own suicide right before Passover in a manipulative flourish geared to annoy her ex-husband — but an unforeseen twist leads him to re-examine the relationship and rediscover their undying love for each other.

'The Klezmatics: On Holy Ground'
Saturday, March 12, 9:30 p.m., English, Yiddish with English subtitles
From the Lower East Side to Krakow, Poland, this quick-paced portrait captures the energy, infectious concert performances, and on-camera candor of the band that has been redefining Jewish music for more than 20 years.
Festival Pass holders and ticket-holders for this film will receive $5 off any ticket for the thought-provoking performance by spoken-word artist Vanessa Hidary, "The Hebrew Mamita" (7:30 p.m. in the White Theatre). Complimentary fresh-brewed Roasterie Coffee will be available between shows.

'Against the Tide'
Sunday, March 13, 1 p.m. plus discussion following, English
A compelling examination of American inaction during the Holocaust, through never-before-seen footage and interviews with activists who tried to mobilize the U.S. government — and the American Jewish establishment.
Discussion following the film with historian Frank Adler.

'A Matter of Size'
Sunday, March 13, 7:30 p.m., Hebrew with English subtitles
A coming-out story of a different kind: Fed up with the "dictatorship of thinness" of their weight-loss workshop, four friends from the Israeli city of Ramla — Kansas City's Sister City — ditch their diets and find new fulfillment in the world of sumo wrestling. Pound for pound, a pleasure.