Young Jewish dancer loves opportunities with Kansas City Ballet
Published: Thursday, 30 November 2017 12:00
Written by Marcia Horn Montgomery, Contributing Writer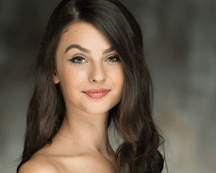 Because "The Nutcracker" is always shown around the Christmas season, it's considered by some to be a Christmas production. However, for Kansas City Ballet's Goldie Walberg it's an all-encompassing holiday production.
"It's open to everyone," she said. "I don't really feel like it's so Christmassy that it's overwhelming. It's just very festive for all audience members and as a Jewish person I think it's fun to celebrate the holidays."
Walberg, 22, grew up in Sherman Oaks, California, and is the daughter of Mark A. Walberg, the host of "Antiques Roadshow" on PBS (not to be confused with actor Mark Wahlberg, who is "the cooler" of the two, according to Goldie Walberg).
Walberg started dancing at age 5. Her mother was a dancer who appeared on Broadway and her grandmother owned a dance studio.
"So some would say I was destined to start ballet classes," Walberg said.
She began studying at Los Angeles Ballet Academy at the age of 10. At 17 she earned the Royal Academy of Dance's highest honor, the Solo Seal, and was a finalist at Youth America Grand Prix in New York where she received a full scholarship to the Washington School of Ballet. While there, she performed the "pas de deux," a dance duet, from "Don Quixote."
In 2013 she got her first job at Ballet Met in Columbus, Ohio, where she was a featured soloist in "The Nutcracker," appeared in the world premiere of Edwaard Liang's "Cinderella" and also performed in "The Great Gatsby."
She joined Kansas City Ballet's second company, called KCB II, in 2014. KCB II is often a stepping stone to the corps, or first year in the main company. After two years the artistic director, Devon Carney, promoted her to apprentice level in the corps.
"For professional ballet companies you have to audition for a bunch of companies," Walberg said. "I stayed (in Ohio) for a year and then auditioned again. Kansas City was where I got the job and it felt right, so here I am."
Walberg said she was excited to get to perform at Kennedy Center in "The Nutcracker" and that it was a great opportunity for Kansas City Ballet.
Walberg has performed in "The Nutcracker" many times. In addition to the Washington School of Ballet and Ballet Met in Columbus, this will be her third year in "The Nutcracker" for Kansas City Ballet. She was part of the first year KCB choreographed its "new" "Nutcracker" and is still very enthusiastic to be a part of it.
She plays a party parent, a snowflake, a marzipan and a flower, so she gets plenty of stage time.
"We are dancing a lot," she said. "It's fun because we all get to go onstage and perform and 'The Nutcracker' is usually the most fun of the year because it's so festive."
Other ballets Walberg has performed for Kansas City Ballet include "The Three Musketeers," "Theme and Variations" by George Balanchine, "Sleeping Beauty" and "A Midsummer Night's Dream." Later this year the company will be performing "Peter Pan."
"We do a bunch of different, fun, exciting ballets each season," she said.
The Reform Jew said Judaism plays a part in everything she does in life.
"Personally, I just carry it with me every day in everything I do, not necessarily just each role I perform," she said. "I think it's always in me and maybe that sets me apart from other people. I am the strong Jewish person in maybe a Christmas show. That's how I think of it."
While she hasn't joined a synagogue here, she attends High Holiday services at Chabad at the University of Kansas.
Walberg said she is enjoying her life in Kansas City.
"Even though you might not think of Kansas City as such a Jewish place, I feel so welcome here and there are a few Jewish girls in the company, so that's been fun and I'm extremely happy here," she said.
'The Nutcracker'
Fresh off its seven performances of "The Nutcracker" at the John F. Kennedy Center for the Performing Arts in Washington, D.C., Kansas City Ballet will once again perform this critically acclaimed production Dec. 7-24 at the Kauffman Center for the Performing Arts.
This year marks the 45th season Kansas City Ballet has presented a version of "The Nutcracker." For ticket information, dates and times, call 816-931-8993 or visit 
kcballet.org.