Author and Pulitzer Prize nominee to speak at B'nai Jehudah
Published: Thursday, 16 November 2017 12:00
Written by KCJC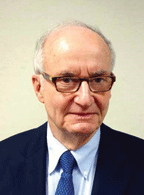 Rabbi James Rudin, who was nominated for a Pulitzer Prize in 2016 and once served as an assistant rabbi at The Temple, Congregation B'nai Jehudah, will speak at the Reform congregation Friday, Dec. 1. 
He will offer the message during the congregation's regular 6 p.m. service and the topic will be the relationship between Franklin Delano Roosevelt and Rabbi Stephen S. Wise during the years of the Holocaust. His message is titled, "It was Complicated: The FDR-Rabbi Stephen Wise Relationship During the Holocaust." Rabbi Rudin's remarks are drawn from his research on Rabbi Wise, which is featured in his biography "Pillar of Fire: A Biography of Stephen S. Wise" (Texas Tech University Press, 2015). Rabbi Rudin's participation is sponsored by the Pearl and Irvin Atlas Memorial Lecture Fund.
"B'nai Jehudah is excited to welcome Rabbi James Rudin back to his former pulpit. We're proud to have been part of his illustrious career and are eager to learn from him once again," said B'nai Jehudah Rabbi Daniel Kirzane.
Rabbi Rudin, who was ordained in 1960 by the Hebrew Union College-Jewish Institute of Religion, served congregations in Kansas City (1962-64) and Champaign-Urbana, Illinois, and was a United States Air Force Chaplain stationed in Japan and Korea.
Following his stint as a pulpit rabbi, he began his career as a member of the American Jewish Committee senior professional staff in 1968, where he served as director of the Interreligious Affairs Department. He is currently the AJC's senior interreligious adviser and a member of the organization's board of governors. He holds honorary doctorates from Saint Leo University, Saint Martin's University, and HUC-JIR. Rabbi Rudin is distinguished visiting professor of religion and Judaica at Saint Leo University and is the author or editor of 17 books. 
Rabbi Rudin's latest book, "Pillar of Fire," was nominated for a 2016 Pulitzer Prize for Biography and for the 2016 National Jewish Book Award. In "Pillar of Fire," Rabbi Rudin explained that during Rabbi Stephen Samuel Wise's long career, he received letters with only two words written on the envelope: "Rabbi USA."
"But the United States Postal Service was never in doubt about the intended recipient: there was only one "Rabbi USA." No other rabbi before or since Rabbi Wise has dominated the American and the international scene with such passion and power. Both his admirers and opponents — there was no shortage of either group — acknowledged him as the premier leader of the American Jewish community and a major political figure."
"Pillar of Fire" is described as going behind the headlines and the once-closed archives of the White House and the State Department to reveal the complex and controversial personal relationship between Rabbi Wise and President Franklin D. Roosevelt when millions of lives hung in the balance during the Holocaust. It also explores Wise's remarkable relationships with both President Woodrow Wilson and United States Supreme Court Justice Louis D. Brandeis. Finally, the book describes how Wise's extraordinary actions in the realm of social justice and human rights permanently influenced every clergyperson, seminary. and house of worship in America.
During Erev Shabbat services on Friday, Dec. 1, Rabbi Rudin said he will discuss the issues surrounding Rabbi Wise's 13 private meetings with FDR between 1936 and 1945.
"Rabbi Wise pressed the president in three key areas: 1. Open the gates, break the restrictive quota system and allow many more Jewish refugees into the U.S. 2. Rescue as many Jews as possible who were trapped under Nazi control in Europe. 3. Commit the United States to a full-throated support of Zionism. How well did the rabbi do is a central theme of my Irvin and Pearl Atlas lecture," the rabbi said.
Rabbi Kirzane said Rabbi Wise's relationship with FDR was not the only thing that made him an instrumental figure in the development of Reform Judaism in America.
"In 1922, he founded the Jewish Institute of Religion, which would later merge with the Hebrew Union College as the Reform movement's only American seminary. He was also a passionate Zionist, forever changing the landscape of American Zionism through his sustained advocacy for Jews in the land of Israel. Rabbi Rudin's scholarly treatment of Rabbi Wise reintroduces to contemporary readers this once central figure of American religion," Rabbi Kirzane explained.
Rabbi Arthur Nemitoff, senior rabbi of the congregation added that B'nai Jehudah is proud to offer this opportunity for the community to learn from Rabbi Rudin, a recognized leader of the greater Jewish community and a serious scholar of of Rabbi Stephen Wise.
"We are delighted that the Pearl and Irvin Atlas Memorial Lecture Fund is sponsoring Rabbi Rudin's visit. Through this fund, B'nai Jehudah periodically provides opportunities for our community to engage with deep ideas of abiding value in today's world. The Atlas Fund is an important educational resource to B'nai Jehudah and the entire Kansas City Jewish community."