HBHA's Haas inspired by sailors of USS Harry S. Truman
Published: Thursday, 09 November 2017 12:00
Written by Beth Lipoff, Contributing Writer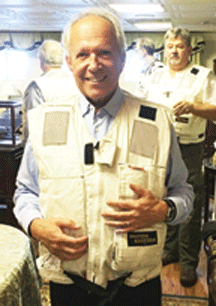 Howard Haas wasn't sure what he was getting into when a supporter of the Hyman Brand Hebrew Academy nominated him to be a distinguished visitor aboard the aircraft carrier USS Harry S. Truman. What he found during his 24-hour stint last month on the Navy vessel was a new appreciation for veterans and current military personnel.
Haas, who is HBHA's head of school, was able to make the trip courtesy of the USS Harry S. Truman foundation, a nonprofit that provides support to the ship's personnel through welcome home receptions and scholarships. He boarded the ship at the Naval Air Station Norfolk in Virginia.
He was the only educator among a group of nine other men making the same trip from Kansas, Missouri and Oklahoma.
"The people that we look for to go out to the ships are community influencers. That could be anywhere from a high school math teacher to the CEO of a corporation. (The program) gets those community influencers out to the ship to see who we are, what we do and why we do it," said Commander Dave Hecht, public affairs officer for the Commander Naval Air Force Atlantic. "These 18-, 19-, 20-year-old kids … somebody who just a few years ago got their driver's license, and now they're driving a $13 billion warship."
The mix of young age and professionalism made an impression on Haas.
"We have young people in this country who break the concepts that many of us have of this new generation. These kids were focused, concentrated, mature beyond their ages regarding their responsibility, and they all loved their work. It was extraordinary to me," said Haas.
The ship houses between 5,000 and 6,000 sailors and is like a miniature city at sea, with its own dentist, post office and anything else people might need. Its chapel even has its own Torah scroll. To honor its namesake, it also contains a replica of Harry Truman's office, right down to his books.
Hecht said the trips aren't on a particular schedule — the Navy arranges them whenever there's a timeslot where the ship is doing training exercises, and all other conditions are suitable for visitors. He estimated that the Atlantic fleet does about 24 such trips in a year. To go, participants must have a nomination from someone such as a senator, admiral or captain.
Haas spent time watching planes take off and land from the deck, spoke with maintenance workers and chatted with the ship's captain.
"I asked the captain, 'What worries you?' Because it's an incredible responsibility. … He said, 'What keeps me up at night is worrying that one my sailors will go overboard, and we won't find him.' So for me, when you think that he could be going to North Korea, he could be in the middle of a war, but the thing that keeps him up at night is worrying about one sailor going overboard — I found that extraordinarily inspiring," Haas said.
He slept on a bunkbed and listened as the planes kept coming in and taking off until 2 a.m.
"The captain said, 'One of my goals is that you will never be as tired as you will be after these 24 hours,' " Haas said.
He hopes to share his experiences with the students at HBHA.
"It's past politics … the reality of it is we've got young people in this country who love the United States, dedicating their lives to keep us safe," Haas said. "As we tell the kids here, you need to forget about yourself every once in a while and do what's best for other people. People who were totally dedicated to something bigger than them. The teamwork was extraordinary."