Listening Post
Published: Thursday, 02 November 2017 10:00
Written by Barbara Bayer, Editor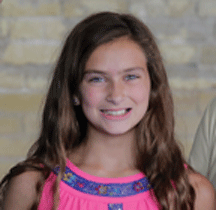 THE RUNNING FOR DREAMVENTION CONTEST — KC's next big inventor may only be 10-years old, but her invention is one of the final five — out of 13,000 ideas submitted — to make the final round of Frito-Lay's sponsored Dreamvention contest: https://www.youtube.com/watch?v=v7WJO0Dnqxw
Julia Luetje's winning invention is the Storm Sleeper, a specialized pillow fort with a custom fabric cover and Bluetooth speakers, designed to block out the sights and sounds of scary storms. The inspiration for Julia's idea stems from her fear of thunderstorms — she used to put pillows around her head to comfort her during loud Midwest storms. She invented the Storm Sleeper to help others who share the same fear of thunderstorms sleep soundly and relax as well. It is a mini fort that you lie in that covers your head, plays soothing music, and blocks the sights and sounds of scary weather, snoring parents and noisy siblings. Pets can use it too! It is also a therapy aid for people with sensory issues, autism and ADHD. Julia entered it in the Dreamvention competition after learning about it from watching ELLEN last March.
Each of the five finalists is guaranteed a $10,000 prize. The grand prize winner gets $250,000 and a one-on-one entrepreneurship mentoring session with a celebrity mentor.
Fans may vote once a day per device at www.mydreamvention.com; voting ends Nov. 27. The winner will be crowned in December. As an added incentive, each day users vote they'll be entered to win $1,000. #VoteForJulia
Innovation and entrepreneurship run in Julia's blood. Her grandfather, Bob Bernstein, is the founder of KC based Bernstein-Rein Advertising and also the creator of the Happy Meal.
Frito-Lay developed this program to celebrate the power of boundless imagination by inviting aspiring entrepreneurs to use their creativity to "dreamvent" a solution to everyday problems.
See Julia's video at YouTube by searching Julia Luetje or visiting this link: https://www.youtube.com/watch?v=rqQ1--G_e1E.
The contest is sponsored by Frito-Lay. Special additional voting codes are also available on some specially marked packages of Frito-Lay products.
OU PARTNERS WITH KOSHER.COM TO ANSWER KOSHER QUESTIONS — If you've ever wondered if your sukkah is built to code or if your Slurpee is permissible, you may find the answer in the new series "OU & YOU," a partnership between the Orthodox Union (OU) and Kosher.com, the premier kosher food and Jewish lifestyle website.
"OU & YOU" is an informative resource that answers questions people frequently ask, especially at different times of the year. Hosted by Rabbi Moshe Elefant, COO of OU Kosher, along with content from other kashrut authorities at the OU, the series is accessible to all at kosher.com and OU Kosher. It is comprised of short videos (most under 2 minutes), audio programs and articles.
"Kosher.com is the No. 1 visited website for kosher cooking and lifestyle recipes and videos. Kosher.com offers new, seasonal content, stunning photography, vibrant cooking demos and cooking shortcut videos that make it the 'go-to' resource for all cooks, from beginner to gourmet and any skill in between. And now, with the addition of 'OU & YOU,' Kosher.com is the one-stop resource for everything and anything kosher," said Mordy Herzog, CEO, Royal Wine Corp. and Kayco.
The "OU & YOU" video series is easily searchable and organized by topic. Rabbi Elephant answers practical questions like "What if you forgot to do an Eruv Tavshilin?" as well as more philosophical questions like "Why is it a mitzvah to be happy on Yom Tov?" Nine videos are already posted and there will be more mini-series posted on the channel focused around specific holidays, as well as broader questions about the laws of kosher.
"We're delighted to present 'OU & YOU' to the public," said Rabbi Elefant. "We believe the series will be a helpful resource to anyone with questions about the rules of law regarding kosher food, cooking and lifestyle. We hope the series will encourage knowledgeable people, as well as those who are just learning, to navigate through all aspects of Jewish living." To learn more, visit http://www.kosher.com/shows/ou-you-25.