Rita Blitt Gallery and Sculpture Garden to house artist's legacy collection
Published: Thursday, 26 October 2017 10:00
Written by Marcia Horn Montgomery, Contributing Writer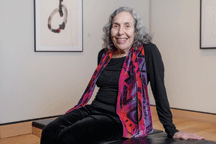 World-renowned, award-winning artist Rita Blitt, a Kansas City native, has donated a significant body of her life's work to the Mulvane Art Museum on the campus of Washburn University in Topeka, Kansas.
The Mulvane will host a special reception for the Blitt family from 5:30 to 7:30 p.m. on Friday, Nov. 3.
Blitt said she is "beyond excited and so grateful" for the new Rita Blitt Gallery and Sculpture Garden, which is housed between the university's White Concert Hall and the Mulvane Art Museum. Because music has been so integral to her work, she said the location couldn't be better.
She paints to music and said "I feel like I'm dancing."
The collection is made up of drawings, paintings, sculptures and archival materials.
"Everything that led to and resulted from my art and the art itself, that's my archive," Blitt explained. "Of course I couldn't give every last thing, but all the important things as we have come across them — not only the art I chose, but all my memorabilia."
There are many works that have never been seen publically before, which even surprised Blitt when they were discovered. She said she didn't know many of them existed until she found them.
Blitt said there are more than a thousand works being donated, which include spontaneous drawings and greeting cards she made for birthdays and anniversaries when she was just a child of 6 or 7.
There are certain pieces of art Blitt wanted to hang onto over the years and now they will have a permanent home.
"They make a strong statement together when you see the development of an artist," she said.
All her works have been digitally mastered to disks, making it easy for students to study her work.
The Mulvane has created a new program called the Rita Blitt Tutorial Fellowship. One student will be selected each year to work with the collection to either curate an exhibition from her work; organize and present a performance, either musical or dance; or use Blitt's work to create an interactive digital media project.
"Whatever that final work is, it becomes part of the archive and the collection," said Connie Gibbons, director at the Mulvane Art Museum. "So there will be an ongoing development and growth of the collection based on her work.
"And because it is multidisciplinary, because she is influenced by dance and music and incorporates that into visual elements, we're looking at ways to fuse her work and the gallery as an intersection for multidisciplinary activities to occur. It's really exciting."
Blitt's donated works exemplify every aspect of her art and her life. In fact, she sees her life in terms of what she created during any particular year. But she said most important in her life is family.
"None of the art would be meaningful without family. My husband is very much a part of this venture because he has made me so happy that I could create all this," she said.
Blitt said she's donating these artworks now because she wanted to give them while she could still enjoy doing so and also as an obligation to care for what she has created over the years.
This is not an indication that she has any plans to retire. When asked her age, she said, "I am old enough to feel mature and young enough to keep creating and growing."
Blitt gives Randy Pembrook credit for making the gallery and sculpture garden a reality. Ten years ago, when Pembrook was at the University of Missouri-Kansas City Conservatory of Music, he knew of her desire to house her art in a permanent collection. Plans were made for her work to go to UMKC, but fell through due to a lack of state funds.
Pembrook then moved on to become vice president at Washburn University. When he learned a few years ago of Washburn's desire to have a gallery connected to their concert hall, he thought of Blitt.
"Washburn was a perfect fit; I believe in their educational mission and they believe in me," Blitt said. "Also, I can't imagine a more perfect place for my work because the space built to house my work is connected to music and nature. I invite our friends and relatives to personally share the Rita Blitt Gallery and Sculpture Garden at Mulvane Museum and to pass on its spirit to future generations."
The Blitt collection came with a generous contribution from the Blitts to bring to fruition the Rita Blitt Gallery and Sculpture Garden.
The Mulvane's Gibbons said exhibitions will change depending on the themes and what the students are exploring. For example, there's the opportunity to study musical composers. Blitt has a whole series of drawings in sketchbooks based on compositions of Holocaust composers.
"We're looking at ways to use that as an opening to explore the Holocaust and these composers and their music," said Gibbons.
Blitt has partnered with David Parsons, who has incorporated her paintings and drawings into the backdrop of some of the dances he has choreographed. So Gibbons said there is a lot of subject matter they can create with her work over time.
Gibbons said they're excited about the potential of engaging students and people from across the campus — not just the visual arts, but performance, dance, from all of the humanities — in a conversation about the arts and how important they are.
"For us it's an opportunity to really infuse the work of an individual artist to engage students in the creative process of how they create, they develop," said Gibbons.
To view Blitt's artwork and other projects, visit ritablitt.com.