Berg returns to twinkle the ivories at Grand Givers
Published: Thursday, 19 October 2017 10:00
Written by Beth Lipoff, Contributing Writer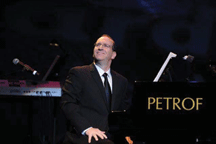 You might know Neil Berg from his show recounting a century of Broadway. This time, he's sticking with 100 years but taking his audience to Tinseltown when he performs Nov. 4 at Kehilath Israel Synagogue's Grand Givers event.
Berg will stay at the piano and leave the singing to Broadway veterans Lawrence Clayton, Carter Calvert, Jeannette Bayardelle, Danny Zolli, and Rita Harvey, his wife. Each time he performs, his ensemble is slightly different, depending on the singers' availability.
"I've done years of research. I always try and match the songs with the singers," said Berg, who is Jewish. "I never pick a song that's inappropriate for a singer. I'm not going to make someone who's a belter sing soprano."
Though the show is about Hollywood, watch for some of the songs that jumped from stage to screen — and vice versa. Berg also enjoys surprising people.
"A great song that no one ever thinks of is 'I Believe I Can Fly' by R. Kelly. Most people know it as a pop hit and don't realize it was from the Michael Jordan movie Space Jam," he said.
If he wasn't doing this, Berg said he'd probably become a professor. As part of the show, he shares obscure trivia and facts about the songs. So if you thought "Unchained Melody" made its first Hollywood appearance with a pottery wheel and Patrick Swayze, Berg has a few things to teach you.
He's toured through Overland Park several times before, including other performances at K.I.
"He always puts on a great program. He just played Johnson County Community College and was recommended as one of their best performers ever," said Michael Sokol, who co-chairs Grand Givers with his wife, Shari.
Although he's known around here as a performer, Berg's first love is composing.
"From the second I could sit down at the piano, at 9, 10 years old, I was writing, without knowing it at that time," Berg said. "I loved storytelling. From the second I could play, I was telling stories, making up lyrics to music."
He played in bands throughout his youth, but he was never the frontman. 
"I go back to the time when I was studying my Haftarah in Hebrew school. I didn't have a great voice, but I sold my Haftarah up there on the bimah. I put my heart into it," he said.
Things really kicked off when he was a student at Binghamton University in New York. Berg wrote a musical that got produced at the school, and it led to writing gigs in the professional theater.
At the same time, he was organizing concerts to raise money for his school dorm. Without realizing it, he became a producer and eventually got a job at a star-studded benefit for what's now The Leukemia and Lymphoma Society.
"I was playing piano for all these stars. They all wanted to come in sing their song and get out, but no one wanted the job of putting it all together, so I did it," Berg said. "Next thing you know, a big-time Wall Street guy asked me to do it for an event, then I'm doing all these incredible corporate events."
As demand increased for his skills, Berg put together what became his well-known 100 years of Broadway tour, with a rotating slate of Broadway talent.
He's written several musicals and still does performances that feature his own material. In 2015, he and writer Robert Schenkkan debuted a new musical, "The Twelve," about the story of the apostles after the death of their leader.
"It's not really about the religiosity. If you took the story as history … what happens after you join a revolution, you give up everything to join it, then a few weeks later your leader is killed in the most horrible way — what do you do?" … whether or not the story's true, for us we weren't commenting on that. It was no different than if you took a Grimm's fairytale and said, 'Let's make these characters human and see how they respond in these situations,' " Berg said. "…I like to think of myself as a storyteller who's able to really put myself outside of it all and look at it and really appreciate the cultures and stories of all people." 
For ticket information, visit kisyn.org or call 913-642-1880, extension 203.