Listening Post
Published: Thursday, 05 October 2017 14:54
Written by Barbara Bayer, Editor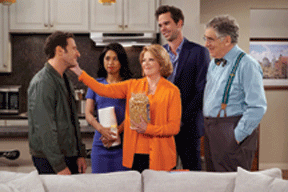 NEW YEAR BABY — The first Shabbos of the new year started off with extra excitement for those at BIAV on Saturday, Sept. 23. Services are scheduled to begin at 9 a.m. and just about the time they were expected to start, a minivan pulled into the parking lot.
Craig Kohn, who was visiting his parents Maury and Phyllis Kohn, ran into the building with the news that a doctor was needed immediately. Dr. Bill Rosenberg, a neurosurgeon, went to the parking lot to see how he could assist. During that time, a smaller car also zoomed into the parking lot. The folks in the van were having a baby and their midwife, who had been waiting for them at the hospital, instead met them in the BIAV parking lot. Dr. Rosenberg stayed on the scene until the ambulance arrived. As Rabbi Daniel Rockoff said, "What an auspicious start to a new year to have a baby born in your parking lot. You never know what will happen when you show up for services on time!"
SURPRISING KC CONNECTION — Kenneth Baum was pleasantly surprised when he opened up last week's issue of The Chronicle and found a picture of a cousin in a JTA article. A photo of Rabbi Joshua Davidson illustrated the article "Rabbis disagree about talking politics on the bima." Rabbi Joshua Davidson is the son of Rabbi Jerome Davidson, who grew up in Kansas City and was a member of The Temple, Congregation B'nai Jehudah. Not only are Baum and Rabbi Jerome Davidson cousins, Baum said the two are the best of friends.
SOLO ART EXHIBITION AT SALON KITCH —Jewish painter Ric Gordon is having a solo exhibition of his work at Salon Kitch throughout the month of October. The exhibition features 11 of Gordon's works ranging in size from 24 x 24 to 60 x 48 and is characterized by highly textured abstract paintings that stir the emotions. The artist reception will be from 5 to 9 p.m. Friday, Oct. 20. Salon Kitch is located at 7333 W. 80th St., Overland Park, KS 66204.
NEW JEWISH-FLAVORED CBS SITCOM — I've always loved television. In fact, when I was younger my family referred to me as the Walking TV Guide. So, a story by Cindy Sher of JUF News sent to us by JTA News & Features intrigued me. The show "9JKL" premiered this week on CBS, but I didn't see it as the undefeated Chiefs were playing as well. (Go Chiefs! 4-0!) It's about a grown man who moves into a New York apartment sandwiched between his meddlesome, boundary-less parents on one side and his brother, wife and their newborn baby on the other. It's inspired by the real life of Jewish actor Mark Feuerstein and it's supposed to have a lot of Jewish flavor.
So … maybe we should check it out?
SCIENTIST WHO FLED NAZIS AMONG NOBEL PRIZE IN PHYSICS WINNERS (JTA) — Three American scientists were awarded the Nobel Prize in Physics, including one who fled the Nazis with his parents and another whose grandparents were Polish immigrants.
Rainer Weiss, a professor at the Massachusetts Institute of Technology, and Kip Thorne and Barry Barish, both of the California Institute of Technology, were awarded the prize on Tuesday for the discovery gravitational waves, which were predicted by Albert Einstein a century ago
Gravitational waves are ripples in space and time that help scientists explore objects in space.
Weiss won half of the $1.1 million prize, with Barish and Thorne sharing the other half.
The Nobel winners and the late Ron Dreyer, also of Caltech, founded the international collaboration of physicists and astronomers known as LIGO, the Laser Interferometer Gravitational-Wave Observatory. In February 2016, they announced that they had recorded gravitational waves emanating from the collision of a pair of black holes a billion light years away.
Dreyer died this year; the Nobel Prize is not awarded posthumously.
Weiss, 85, was born in Berlin to a non-Jewish mother and a Jewish father. The family fled Berlin for Prague when Weiss was a baby because his father was Jewish and a member of the Communist Party. After the Munich agreement in 1938, the family left Prague for the United States. Weiss earned his doctorate from MIT and in 1964 joined its faculty.
Barish, 81, was born in Omaha, Nebraska, and grew up in Los Angeles, the son of Lee and Harold Barish, the children of Polish immigrants to the United States. He earned his doctorate in 1962 from the University of California, Berkeley, and joined Caltech in 1963.
Thorne, 77, received his doctorate from Princeton University in 1965 and joined Caltech in 1967.