Listening Post
Published: Thursday, 21 September 2017 10:00
Written by Barbara Bayer, Editor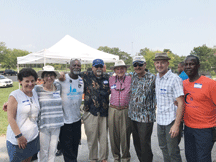 DO A MITZVAH WHILE YOU FAST — Just before Yom Kippur last year I saw a post from Congregation Beth Shalom's Rabbi David Glickman suggesting that if you fast on Yom Kippur, you should consider donating the amount of money you would have spent eating that day to an organization that takes care of the hungry, such as Mazon, Jewish Family Services, Harvesters or Chabad. I loved the idea and asked for permission to reprint it. It was then the good rabbi pointed out that the idea comes directly from the Haftarah for that day. If you are like me and need a refresher course, here is your lesson for the day, courtesy of the ReformJudaism.org:
"Is this the fast I desire? A day for people to starve their bodies? … No, this is the fast I desire: To unlock the fetters of wickedness … to let the oppressed go free … to share the bread with the hungry .…" (Isaiah 58:5-7) 
VIOLIN VIRTUOSO — A new website about Tiberius Klausner is now "live." The website features a bit of "Tibor's" history — personal and professional — as well as a sampling of the hundreds and hundreds of concerts and recordings made over his long career in KC. The website, TiberiusKlausner.com, was developed by Nodebud Authors — Lucinda Dyer and KC's Bryan Azorsky. Former colleagues or students who wish to have their comments added to the website are welcome to contact Mirra Klausner at This email address is being protected from spambots. You need JavaScript enabled to view it.. Questions can be emailed to her as well.
A JET EXTRA — I bet you didn't know that if you sign up for JFS' JET Express Transportation service, you may get a little extra TLC. Check out this example of going the extra mile to keep track of the health and welfare of their clients. JET Operations Manager Sondra Atherly recently called to confirm a ride for a client who lives alone and utilized JET Express for weekly grocery shopping. The usually talkative man said he didn't need groceries or a ride this week, and hung up. Atherly waited a short time before calling back, concerned something was wrong. 
After no answer and unable to reach his family, Atherly contacted the KCMO Police Department to initiate a wellness check. The responding officers assessed the situation and called an ambulance. A follow-up with the family let JFS know this gentleman is on the road to recovery after a hospital stay. 
A LITTLE BIT OF KC IN THE NY TIMES — Several people emailed me this week the link to an article in the New York Times, "From Poland to Lithuania: A Writer's Search for Her Jewish Past." It's written by KC native Charly Wilder, and mentions her relatives and Kansas City throughout. It published on Sept. 18 and the best way to find it is to Google Charly Wilder.
A WORD ABOUT HANUKKAH POSTAGE — While Hanukkah is most likely not the first thing that comes to mind for you right now, we're here to tell you that the U.S. Postal Service will not be unveiling a new Hanukkah stamp in 2017. According to Ronald Scheiman, the man who runs The Quest for Annual Hanukkah Stamps, this means local post offices will not be getting Hanukkah stamps automatically. He said they will have to be ordered. If you want to buy Hanukkah stamps this year, now it the time for you to go to your local post office and ask to speak to the person who orders stamp supplies. Ask him/her to order Hanukkah stamps now so they will have them in time for the holidays. 
JDC PROVIDES ROSH HASHANAH AID TO ELDERLY JEWS IN THE FORMER SOVIET UNION (JNS.org) — Impoverished elderly Jews across the former Soviet Union are expected to receive extra food and traditional holiday fare, including apples and honey, for the Rosh Hashanah Jewish New Year.
The American Jewish Joint Distribution Committee (JDC) in partnership with the Claims Conference and the International Fellowship of Christians and Jews (The Fellowship) will be delivering the aid to Jews throughout the region.
In addition to the extra food aid for the High Holiday season, elderly Jews will also be able to participate in local holiday activities including concerts, games, cooking workshops, and cultural performances courtesy of the JDC's network of Hesed social welfare centers. Homebound seniors will receive visits from volunteers to help celebrate Rosh Hashanah.
"We're proud that we can make the Jewish New Year a bit sweeter for poor, Jewish seniors in the former Soviet Union. At this time of reflection for the Jewish community, when we note the challenges and opportunities before us, we urge others to join us in remembering these Jews in our holiday wishes and to work with us and our partners to alleviate their suffering," said David Schizer, head of the JDC.