'Between the Lines' female star has Jewish lineage
Published: Thursday, 14 September 2017 10:00
Written by Linda Friedel, Contributing Writer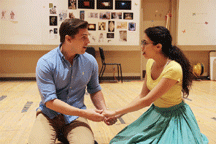 The Kansas City Repertory Theatre launched its 2017-2018 season with a production of "Between the Lines."
The brand-new musical, based on the best-selling novel by Jodi Picoult and her daughter Samantha van Leer, debuted last week at Spencer Theatre located on the campus of the University of Missouri – Kansas City (UMKC). "Between the Lines" will run through Oct. 1. 
Written by Timothy Allen McDonald with music and lyrics by Elyssa Samsel and Kate Anderson, the show was directed by Jeff Calhoun. Arielle Jacobs, who plays a principal role, said she is excited to perform in the inaugural production. It's her second time to work with Calhoun, who directed her as Gabriella in "High School Musical, her first big role. 
"This is the first time anyone has seen this performance," Jacobs said. "It's really fun. It's the most creative form of acting you can do. You are originating it. You can really use your imagination."
The story focuses on the angst of 17-year-old Delilah McPhee, played by Jacobs. McPhee struggles with her parents' divorce, resulting in a move to a new community and school where she experiences bullying and difficulty making friends. She escapes her problems through reading fiction and develops a crush on a handsome fairytale prince who begins talking to her. 
"It's a story in a fairytale book, kind of like 'Toy Story,' " Jacobs said. "We are really trying to build two different worlds happening simultaneously." 
Jacobs said the show has many interesting technical elements, as it blends reality and fantasy. Most of the cast portrays fairytale characters, as well as characters in McPhee's everyday world. The actors are constantly switching back and forth in both worlds with seconds to switch from one costume to another, Jacobs said. "Between the Lines" is one of the few stories for young girls. The main character must save herself. It is inspirational and empowering, she said. 
"This show is cool because it's a story about what happens when you are living a life you aren't happy with, trapped, realizing you have the ability to write your life the way you want to live it," Jacobs said. 
The role of a 17-year-old required Jacobs to tap into the youthful energy of a teenager, as well as teen angst. Everything is so serious for teens, she said, adding she enjoys playing McPhee.
"You have to find balance between youthfulness, innocence and gravitas that is really important to their character," she said. "You still want the audience to root for you. It's a delicate balance." 
The cast spent three weeks in Kansas City preparing for the show. New shows can typically take six to eight weeks to produce, Jacobs said, but under Calhoun's direction they were able to complete the task in two and a half weeks. 
"Staging a new musical in two weeks is pretty much unheard of," Jacobs said. 
Between rehearsals, Jacobs squeezed in some local sight-seeing. She attended the Kansas City Renaissance Festival in Bonner Springs where she enjoyed meeting fairies, mermaids and unicorns, and has dined out in Kansas City area restaurants with the cast. She experienced a rare opportunity in August with a viewing of the solar eclipse in totality on the rooftop of the downtown building where she has been living this summer.
"We got to see it clearly," Jacobs said. "It was really awesome."
Jacobs, a resident of New York City, has been singing since she was a child.
Jacobs earned her bachelor's degree in music at New York University. She has performed on Broadway as Nessarose in "Wicked" and as Nina Rosario in "In the Heights." Her national tours include Disney's Australian production of Aladdin as Princess Jasmine and Disney's High School Musical as Gabriella. Off-Broadway she starred in two world-premiere plays of "Farhad or the Secret of Being" as Farhad and "Sotto Voce" as Lucila. She performed onstage at the Lincoln Center in New York City, The Kennedy Center in Washington, D.C., Symphony Hall in Boston and Kauffman Center for the Performing Arts in Kansas City, among numerous concert halls across the country. Her upcoming solo album, "A Leap in the Dark" debuts in October.
Jacobs' father is Jewish and her mother is Filipino and Catholic. She credits both sides of the family for her vocals. Her mother had a great voice and her paternal grandmother, Estelle Halem, was a cabaret singer who sang into her 80s. Halem was 15 years old in Brooklyn, New York, when Tommy Dorsey tried to convince her mother to let Halem tour with his band. Dorsey promised he would provide her with tutoring while on tour, but Halem's mother said no, that her daughter was too young. Dorsey replaced Halem with an unknown singer named Frank Sinatra, Jacobs said.
"She never got to fulfill her dream of performing," Jacobs said. 
Jacobs founded The Girls Camaraderie Project, a nonprofit organization to help girls between the age of 10 and 13 gain a sense of community and comradery instead of competition. The organization sponsors workshops with interactive activities for girls. Jacobs said she had a tough time in middle school when girls were mean to her. Girls' bodies are changing and they get jealous, competitive and cliquey, Jacobs said. The Girls Camaraderie Project promotes girls feeling save around each other.
"It's exercises to build trust and comradery — do fun things, talk about body image," Jacobs said. "Share difficulties to help bridge a feeling of trust and safety."
For ticket information visit kcrep.org or call 816-235-2700.