Listening Post
Published: Thursday, 14 September 2017 10:00
Written by Barbara Bayer, Editor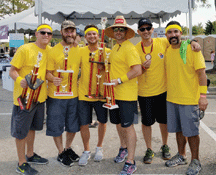 A GOOD TIME WAS HAD BY ALL — Yasher koach and todah rabah — great job and thank you — to all the volunteers and J staff involved in presenting the 2017 Jewish Culture Fest.
I was there for several hours and people — the crowd was estimated at 7,000 — were genuinely enjoying the sights, sounds and smells of the event as well as the chance to schmooze with folks they hadn't seen in a while. I've been to all 10 and I'm already looking forward to the next one!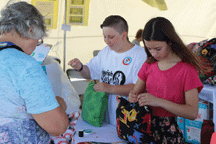 KC'S OWN HURRICANE REBUILDING EXPERT — At the request of Jewish Federations of North American (JFNA), Andi Milens, our local Jewish Federation's director of engagement and leadership development, is in Houston helping Jewish community leaders there mobilize volunteers, resources, etc. to plan and implement the short- and long-term recovery and rebuilding efforts in the Jewish community. Milens gained her expertise while working at the national level of the response to Hurricane Katrina in New Orleans and the Gulf Coast in 2005.
ANOTHER USHMM LECTURE BY A KANSAS CITIAN — Sol Koenigsberg is not the only Kansas Citian who has had lectures accepted by the Library of the United States Holocaust Memorial Museum. Irene Stiefel Starr's lecture titled "My Second Generation Talk" is also part of the USHMM collection. You can find it by Googling ushmm stiefel. It's about her parents' lives in Germany, especially during the 1930s, as well as Starr's perspective on growing up influenced by her parents' experiences. She put the presentation together as part of the Midwest Center for Holocaust Education's Second Generation Speaker's Bureau.