Listening Post
Published: Thursday, 07 September 2017 10:22
Written by Barbara Bayer, Editor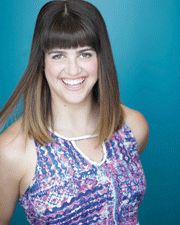 HELP FOR HARVEY VICTIMS — The Jewish community is really stepping up to help those who have suffered devastating losses due to last month's Hurricane Harvey.
Last week Jewish Federation of Greater Kansas City set up a fund in conjunction with it national partners to pay for things such as food, medicine and trauma counseling. As of Tuesday morning, the campaign had raised more than $24,000. Donations will be accepted at the Jewish Culture Fest on Sunday as well as online and by mail. For more information, visit jewishkansascity.org.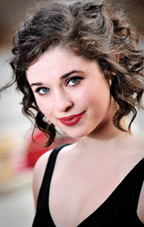 'GREASE' IS THE WORD — Several performers with ties to KC, including two from the Jewish community — Gabbie Fried and Daria LeGrand — are featured in Starlight Theatre's presentation of "Grease." The beloved musical that features 1950s' high school romance and rock 'n' roll will cruise across the Starlight stage like "Greased Lightnin' " for six performances, opening on Sept. 8 and continuing through Sept. 14. 
Since it debuted on Broadway in 1972, where it ran for eight years and 3,388 performances, "Grease" has morphed into an entertainment franchise. The original musical by Jim Jacobs and Warren Casey, which earned seven Tony® Award nominations and two Drama Desk Awards, has spawned a hit movie (1978), two Broadway revivals (1994 and 2007), a TV reality show "Grease: You're the One That I Want" (2007), and, most recently, the "Grease, Live!" TV performance on FOX (2016). 
Fried, a member of the ensemble, was a member of the 2010 Starlight STARS and is appearing in her first Starlight show. She is now based in New York. 
LeGrand, also a member of the ensemble, has previously performed at Starlight in "Annie" and "The Wizard of Oz." 
Tickets for "Grease" at Starlight Theatre are available online at www.kcstarlight.com, by calling 816-363-7827 or at the Starlight box office at 4600 Starlight Road, Kansas City, MO 64132. All performances begin at 8 p.m.
STILL TIME TO GET NAMES IN JWV BOOK — Those who are putting together the book "FOR THOSE WHO SERVED OUR COUNTRY: A Tribute to Kansas City's Jewish Veterans," report that they now have almost 4,700 names of veterans from the Greater Kansas City area beginning in the Civil War period to the present for inclusion in the book.
To be sure as many names are included as possible, the MO-KAN Post 605 of the Jewish War Veterans of the United States of America will have representatives at the Jewish Culture Fest on Sunday to take additional information and to answer any questions. If you can't stop by on Sunday, registration will continue to be available online until Oct. 2.
The only requirement to be included in this book for Jewish veterans is if they live in the Kansas City area or have lived here at some point in their lives.
In addition to the registration of names, the team has conducted research through The State Historical Society of Missouri records, the Missouri Valley Special Collections at the Kansas City library, various records/books involving members of the Kansas City Jewish community, and past documents from the Post and the Veterans' Museum.
The online survey can be viewed at surveymonkey.com/r/kcveterans. Information may also be emailed to This email address is being protected from spambots. You need JavaScript enabled to view it. or mail the survey to the JWV c/o Jewish Community Foundation of Greater Kansas City at 5801 West 115th Street, Suite 104, Overland Park, KS 66211. For information, call 913-832-3696. 
MORE HONEY FROM MITZVAH GARDEN — The Mitzvah Garden has harvested another three gallons of honey, which amounts to about 36 pounds. Larry Lehman said the harvest was Vaad supervised by Yosef Silver, the interim executive director. Lehman also said the second harvest is unusual and is due, in part, to the large amount of rain we received this summer.
Lehman said this honey is darker and has a different flavor than spring honey. This batch of honey will be available for sale in local synagogue gift shops soon. All the proceeds from the honey sales go back to the Mitzvah Garden, which provides approximately 10,000 pounds of fresh produce to area food pantries annually.
6TH ANNUAL KC KOSHER BBQ CHAMPIONSHIP — In case you were wondering why you didn't see information about this year's Kosher BBQ Championship in August, it's because it is a part of this Sunday's Jewish Culture Fest. This year's Kosher BBQ Championship will once again be sanctioned by the Kansas City BBQ Society and for the first time in KC Kosher BBQ Competition history, prize money will be awarded. The local Kosher BBQ Festival was the nation's first kosher barbecue festival to be sanctioned by the Kansas City BBQ Society. 

KC REP'S 'BETWEEN THE LINES' — Kansas City Repertory Theatre opens its 2017/18 season with 'BETWEEN THE LINES,' a new musical based on the best-selling book by New York Times bestselling authors Jodi Picoult and her daughter Samantha van Leer that features music and lyrics by Elyssa Samsel and Kate Anderson, book by Timothy Allen McDonald choreography by Lorin Latarro, and direction by Tony Award-nominated director Jeff Calhoun. 
'BETWEEN THE LINES' will be produced by Kansas City Repertory Theatre by special arrangement with Tony Award-winning Producer Daryl Roth, who has shepherded this project since its inception. It runs Sept. 8 through Oct. 1 at Spencer Theatre on the UMKC campus. 
Roth is just one of the Jewish connections to this production. Picoult has said in interviews she was raised "culturally Jewish," and the father of Arielle Jacobs, one of the play's stars, is Jewish. The Rep's artistic director Eric Rosen is also Jewish.
"BETWEEN THE LINES" is the story of 17-year-old Delilah McPhee, whose life is turned upside down by her parents' divorce. Forced to move to a new town and start a different school, Delilah finds herself escaping into fiction, developing a literary crush on a handsome prince whose circumstances really… speak to her. This empowering new musical based on the bestselling book by Jodi Picoult & Samantha van Leer asks: What happens when the line between fiction and fantasy becomes blurred with reality? Is it possible to live the story you want, if it's not the story you're in? 
Call the box office for ticket information at 816-235-2700.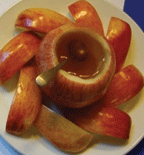 ARE YOU READY FOR APPLES AND HONEY? — Rosh Hashanah is less than two weeks away. If you are like me, you've been seeing a lot of emails and social media posts about the holidays. Last week I got an email from ReformJudaism.org with instructions on how to turn an apple into a honey bowl. So, I tried it. It took less than 15 minutes from start to finish, but I have to admit, mine doesn't look nearly as pretty as the picture in the email. (See photos of my version and the "professional" version on this page.) Here's how to do it if this activity appeals to you:
Materials:
A washed apple
Lemon juice
Honey
Paring knife
Directions:
1. Remove the core of the apple and hollow out the sides, being careful not to cut through the sides or bottom.
2. Rub lemon juice on the cut inside to keep it from turning brown.
3. Fill the apple with honey and place it in the center of a plate. Surround your apple honey dish with lemon juice sprinkled apple slices for dipping.
4. Enjoy!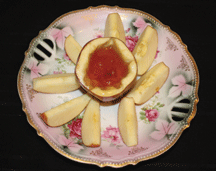 Honey Tasting
1. Set out dishes of different varieties of honey, like clover, poplar, wildflower, blueberry and orange blossom.
2. Have apples and challah pieces ready for dipping.
3. After sampling, let everyone pick their favorite. For a graphing project, make a graph of the results.
Those who wish more recipes/crafts like this, you may subscribe to Union of Reform Judaism's Jewish Dish by visiting reformjudaism.org/subscribe-jewish-dish.