Matis filling in as K.I.'s interim cantor
Published: Thursday, 31 August 2017 10:00
Written by Barbara Bayer, Editor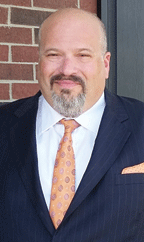 On Aug. 1, Cantor Benjamin (Ben) Matis became Kehilath Israel Synagogue's part-time interim hazzan. K.I.'s Rabbi Jeffrey Shron, who is making Aliyah with wife Hedy on Oct. 2, had been the congregation's full-time hazzan for 17 years and continued singing while serving as its senior rabbi.
In K.I.'s monthly newsletter the Focal Point, K.I. President Marty Gorin wrote, "With Rabbi Shron and Hedy leaving after the High Holy Days, the hiring of Cantor Matis is perfect timing to preserve the continuity of our services, not only for holidays, but also for every Shabbat and every weekday."
"He has a marvelous voice and a wonderful personality," Gorin continued. "When I first heard him, I thought of Cantor Solomon. He's very talented." 
Cantor Matis is very excited about this opportunity.
"It's nice to be back to the pulpit again," he said. "I didn't realize how much I missed it."
K.I.'s first hazzan was Cantor Ben Solomon, the brother of Rabbi Maurice D. Solomon, who joined the congregation in 1947 as its cantor and stayed until 1986. Earl Berris succeeded Ben Solomon as cantor in August of 1986 and stayed until July of 1997. Rabbi Shron came on board in 1997.
Cantor Matis (pronounced May-tis) has a master's degree in sacred music from Jewish Theological Seminary and an undergraduate degree from the Peabody Conservatory in Baltimore, Maryland. He was most recently the hazzan at Shelter Rock Community Center in Roslyn, New York. 
He came to the Kansas City area about a year ago to serve as a contributing editor on the Kansas Jewish History Project through the University of Kansas. The project is compiling an encyclopedia of Kansas Jewish history.
In addition to his work at K.I., Cantor Matis is working on his doctorate through Jagiellonian University in Krakow, Poland. It has to do with "Reform" Judaism in Poland in the 19th century. This year he will also teach religious school at Congregation Beth Shalom and in the spring will teach a class at the KU Edwards campus in Overland Park called "Music in Jewish Culture."
Cantor Matis' wife Stefanie is a massage therapist and daughter Shoshana is in sixth grade at HBHA. His son remained in the New York area.
When Cantor Matis was hired, Rabbi Shron said, "Cantor Ben is a very talented hazzan, and I wish him much success."