Selichot program invites audience participation of innovative play
Published: Thursday, 31 August 2017 10:00
Written by Marcia Horn Montgomery, Contributing Writer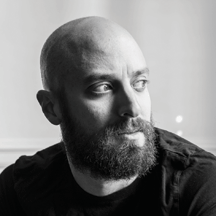 It may sound like hype, but this year's Selichot program will be different than anything you have ever seen before. It features a performance of "The Sarah Play." It is the last of five different plays actor/playwright Jon Adam Ross has written for five cities: Minneapolis/St. Paul (Abraham); Charleston, South Carolina (Rebecca); Austin, Texas (Jacob); Seattle (Rachel and Leah); and Kansas City, which is about the matriarch Sarah and her servant Hagar.
These are not your typical plays. They are part of Ross and director Chantal Pavageaux's InHEIRitance Project, which explores modern interpretations of Judaism's patriarchs and matriarchs. But that's not the only unique aspect of the plays.
Ross first conducts workshops, interviews, conversations and text studies with community members (Jews and Muslims), the artistic community and the interfaith clergy community about the subject, engaging them in the shaping process. The play is then performed before live audiences in various venues as an open rehearsal. There are no costumes, no props and the lines are not even memorized.
During the open rehearsal, the director may stop at any point and say, "Sorry, that line just doesn't work," and ask the audience for suggestions as to how to improve it. Ross said if the actors memorized their lines, the audience wouldn't feel as much permission to give feedback. "It would look too polished, too prepared. This is raw."
"Most audiences only get to experience art when it's finished and most artists only share their art when it's finished," said Ross. "We work to give communities access to the artistic process from its inception as participants and not just as witnesses."
Each rehearsal presents new material that is influenced by the immediate past rehearsal. The rehearsal at KU Hillel will be different than the one at the Islamic Center of Johnson County, which in turn will be different than the community Selichot program.
"We do devised theater, and the difference between devised theater and traditional theater is that traditional theater begins with a script and devised theater ends with a script," Ross said. "It's rehearsed and performed in a polished, beautiful way and then we come back and do that."
The final version of "The Sarah Play" will be performed at White Theatre Dec. 2-3. For more information, go to thewhitetheatre.org.
Sarah and Hagar
This tale is in both the Torah and the Quran. Ross said it's a story about a family that was severed in half, but we know very little of the relationship between the two women.
"We get little snippets about how they feel about each other, but women are underwritten in the Bible," he said. "Our work as artists is to try to fill in the gaps, writing our own Midrash, if you will."
However the play does not take place in biblical times; it's about how Sarah and Hagar are relevant to Kansas City Jews and Muslims in today's world. After collecting the narratives from these two communities, Ross said they "put it all in a blender and what comes out is something new, a new piece of art. If you're familiar with the Sarah and Hagar story, you will recognize that story in our story, and if you're familiar with the history of Kansas City you will recognize that story in our story."
Ross said he doesn't want to give away too much of the play, but one of the themes is fertility. Sarah can't have a baby and she struggles with this to the point where she offers her husband to another woman to give him a child. Ross said he spent a lot of time meeting with women who also are struggling with fertility.
Rabbi Javier Cattapan of Congregation Beth Torah said the story of Sarah and Hagar is relevant to Selichot because it's the part of the Torah that is read the first day of Rosh Hashanah. Selichot is the name of the service that takes place on the Saturday preceding Rosh Hashanah and consists of a long series of penitential prayers.
"So to us in the Rabbinical Association, we thought that was a good match," the rabbi said. "We thought a play with a biblical theme that also brings everybody together in the making of the play seemed like an interesting thing to do as far as our program."
Why Kansas City
Ross said when choosing the cities for the InHEIRitance Project, they looked for smaller communities, Jewish communities with unique personalities that had unique stories to tell and geographic variance.
"The Sarah Play" has not yet been cast. Ross said they will be having auditions the first weekend they get to Kansas City in September, but it is not an open call. The main roles will be played by two Kansas City actresses and they are seeking very specific types by working with the theater and artistic communities and the Jewish and Muslim communities to find the right people. Ross will also be in the play.
"It's not the kind of thing any actress can do," he said. "If you're talented at singing and dancing, that doesn't necessarily mean you are comfortable with this kind of storytelling and this kind of theater. What we do requires more versatility, more experience, more confidence and vulnerability to put yourself out there in the raw process with these open rehearsals."
Rabbi Cattapan said people are welcome to see the play even if they don't attend the Selichot service.
"I think what makes it interesting is that it's kind of 'out there,' creative and innovative, and that's part of the experience," he said. "Jon (Ross) told us we don't know what the play is going to be about in the end because we want to open the process of creating theater to the audience; we want it to be a process where everybody is involved. That is really different."
The InHEIRitance Project is being funded by a grant from the Covenant Foundation.
Community Selichot Program & Service
The community Selichot program and service will be held at Congregation Beth Torah on Saturday, Sept. 16. The evening will begin with a dessert reception at 8 p.m., followed by Havdalah at 8:45 p.m. The program, an open rehearsal of "The Sarah Play," will begin at 9 p.m. and the actual Selichot service will start at 10:10 p.m.
For more information visit kcrabbis.org or contact Annette Fish, Rabbinical Association administrator/program director, at This email address is being protected from spambots. You need JavaScript enabled to view it. or 913-327-4622.
Selichot services will also take place at 11 p.m. at Kehilath Israel Synagogue and 1:10 a.m. at Congregation Beth Israel Abraham and Voliner.