HBHA graduate provides combat support for IDF
Published: Thursday, 24 August 2017 13:12
Written by Sybil Kaplan, Contributing Writer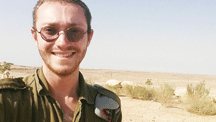 JERUSALEM — People often ask whether coming to Israel on a summer youth program influences young people. Ezra Smith, 20-year-old son of BIAV members Bruce and Karen Smith, is a good example of how that experience changes one's life. Smith came to Israel on the NCSY Kollel program during the summers of 2013 and 2014.
"What inspired me to go on NCSY Kollel was that I wanted to see what people who live a real, genuine, dedicated religious life look like and experience it for myself. What better place to do it than a yeshiva-like environment, in the Holy Land, full of motivated and dedicated people? Of course, we also did touring and other cool stuff, but mostly I went because I was chasing after the Torah that is found there."
The NCSY programs greatly affected his first glance of Israel.
"To me, living a proactive Torah lifestyle as a religious Jew and living in Israel go hand in hand. The two are inseparable in my mind. In that way NCSY Kollel still impacts my life every day — to the point where I even drafted into the army because of the strong values I first learned there, which were only enhanced by yeshiva."
By the time Smith graduated Hyman Brand Hebrew Academy the following year in 2015, he had decided to do a gap year at Yeshivat Hakotel. While there, he learned about their Hesder program in which most of the students participate. They serve 15 months army service then return to the yeshiva for more Jewish studies. 
"One aspect that makes Yeshivat Hakotel special," added Smith, "is that the staff and rabbeim (rabbis) genuinely care for the students. The amount of time that they invest in us is almost superhuman."
Smith's year at the yeshiva turned into a year and a half and subsequently transformed into army service. At the end of Smith's first year there, he decided to draft and he drafted in March 2017.
"I believe the future of the Jewish people is in Israel and I want to see myself a part of that, not just to look on from the bleachers and miss all the action. I want to be a part of the Jewish future, to protect and support our family, who have returned to our homeland and those who have yet to come. I figured the best way to do that was to join the army."
In the army, Smith serves on the basic training base for the Combat Engineering Corps as combat support. Although Smith's base does not have one of the recently-formed all ultra-Orthodox units, his job is similar to that of a military chaplain, being there for soldiers, especially religious ones, and attending to their religious needs.
"For example, when a group goes to train in the desert, I'm the one who gives them a Sefer Torah to read on Mondays, Thursday and Shabbat. I make sure all the doors on the base have mezuzot. I help bring in guest speakers to give Torah classes to the soldiers. Maybe most importantly, I'm there for them to talk to if they are going through a hard time." 
The number of soldiers Smith assists varies.
"For example, if I were to fix the eruv (the wire fence that enables Jews who observe the traditional rules concerning Shabbat to carry belongings anywhere within the area inside the fence without transgressing the prohibition against carrying a burden across a property line on Jewish Sabbath), I would be helping every single person on the base by creating something which prevents mass violation of Shabbos. At the same time, there could be a day where I don't really 'assist' anyone at all. My job has a lot of aspects to it and therefore I can't really define it without having to go into an incredible amount of detail. It has things which affect more people and things which don't as obviously affect people. It all depends on which day and which week. I kind of flow with a routine set by the rest of the base and respond to it and its needs."
When he is not on base, Smith lives in Bet Shemesh with cousins. 
Bet Shemsh is an ancient city going back to the Book of Joshua and part of the territory of the Tribe of Judah. The modern city about 18 miles west of Jerusalem, was founded in 1950.
Originally, Bet Shemesh was inhabited by new immigrants from Iran, Iraq, Romania, Bulgaria, Morocco and Iraqi Kurdistan. In the 1990s, the city saw a large influx of new immigrants from the former Soviet Union, Ethiopia and English-speaking countries, turning it into a major center for Anglo immigrants. Considerable numbers have come from North America, the United Kingdom, South Africa and Australia. This population tends to be Orthodox, educated and from middle income groups. 
Smith will finish his IDF service in another year and will make Aliyah officially later in his service before returning to Yeshivat Hakotel. Will he return to study or perhaps to become a rabbi? "Honestly, I have no idea what I will want after the army. I'm keeping all my doors open."