Jewish Federation celebrates a year of change at Annual Gathering
Published: Thursday, 24 August 2017 13:00
Written by KCJC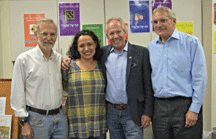 Collectively; so as to be united or in agreement — this is the definition of this year's Jewish Federation of Greater Kansas City Annual Gathering theme, "together." The event, which is free of charge and open to the community, will celebrate the work our community has accomplished together over the past year. 
This year's program, co-chaired by Robyn and Seth Freiden and Amy and Peter Shapiro, will highlight the accomplishments of Jewish Federation over the past year, and plans on moving the organization into a successful future. Attendees will also have the opportunity to celebrate and honor:
• Seth Freiden, this year's Dan Fingersh Young Leadership Award winner,
• Leah Nash, this year's Grinspoon Teacher of the Year Award winner, for excellence in teaching Hebrew and Jewish Studies at HBHA,
• incoming Jewish Federation board members, and 
• those Jewish Federation board members who are completing their term of service. 
"Dr. Helene Lotman recently celebrated her first anniversary as president and CEO of Jewish Federation of Greater Kansas City. During this time, many positive changes have taken place. We look forward to sharing these changes, with a spotlight on the collaboration and the work Jewish Federation has undertaken to enhance our vibrant community," Jewish Federation Board Chair John Isenberg said.
Thoughts on how the Kansas City Jewish community will move forward, and an eye on delivering on its mission through community collaboration is another thread that will be woven into the event. 
"We chose the theme 'together' to keep the focus on our work as a convening organization for the community," said Amy Shapiro, Annual Gathering co-chair. 
Co-chair Robyn Freiden agreed.
"The Annual Gathering is meant to bring our community together and celebrate all we do."
The Annual Gathering is Thursday, Sept. 7, at Teva Pharmaceuticals, 11100 Nall Ave., Overland Park, KS. The evening begins promptly at 7 p.m. and will be followed by a dessert reception at 8:15 p.m. Due to security regulations at this year's location, all Annual Gathering attendees must pre-register for this event, which is free of charge and open to the community. 
A special thanks to event sponsor Pinstripes and in-kind sponsor Teva Pharmaceuticals for making this event possible. To RSVP for the Annual Gathering, go to www.jfedkc.org or contact Cheri Anne Winkler at This email address is being protected from spambots. You need JavaScript enabled to view it. or 913-327-8103.