Listening Post
Published: Thursday, 24 August 2017 12:54
Written by Barbara Bayer, Editor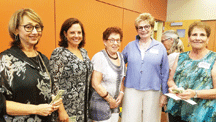 VILLAGE SHALOM ONE OF INGRAM'S TOP RETIREMEMNT COMMUNITIES — Every year Ingram's Magazine readers recognize the best businesses in Kansas City. Here's what it says about Village Shalom in the August edition in the Best Retirement Community category: "Silver goes to VILLAGE SHALOM, with more than a century of service to the region's seniors and more than 200 units spanning independent living through dementia-related illnesses."
FORWARD RECOGNIZES KU — On Aug. 8 The Forward published its first-ever college guide. The paper looked at 171 colleges and universities across the country, and among the things looked at for the ranking process were whether they had a vibrant Hillel, a kosher dining hall and vibrant social action programs. Of the schools The Forward deemed the very best for Jewish students, Washington University in St. Louis (No. 3 overall) was the closest. KU was ranked 132 out of the 171, and is mentioned in the Midwest section. KU's fun fact is that it has "a long and successful basketball history that the only men's coach in Jayhawks history with a losing record is James Naismith — the inventor of basketball." The information, which can be found at forward.com/jewish-college-guide, mentions KU Hillel, Chabad at KU, AEPi, ZBT, SDT, Naismith Hall and Students Supporting Israel. It's also points out the kosher deli available at most home basketball games.
JEWISH FEDERATION EARNS COVETED 4-STAR RATING — Jewish Federation of Greater Kansas City was once again awarded the coveted 4-star rating from Charity Navigator, the gold standard in independent charity evaluation. This is the second consecutive year Federation has received the highest possible rating from Charity Navigator, whose ratings are based on how well an organization maintains sound fiscal management practices and a commitment to accountability and transparency. Only 28 percent of the charities evaluated have received at least two consecutive 4-star evaluations.
"It is important to us that our donors trust Jewish Federation to use their investments wisely to sustain and enhance Jewish life at home and around the world," Federation President and CEO Dr. Helene Lotman said. "Our 4-star Charity Navigator rating demonstrates to our supporters that we take being good stewards of funding very seriously."
BUMBLE DATING APP JOINS FORCES WITH ADL TO 'BAN ALL FORMS OF HATE' (JTA) — The popular dating app Bumble will work with the Anti-Defamation League's Center on Technology and Society for "guidance on identifying all hate symbols."
The app, which as of February had over 12 million users, announced the partnership Aug. 17 on its website. In a statement, the company called on users to report others who displayed "hate symbols" in their profiles.
Bumble will use the ADL's "research and terminology" to identify and categorize hate symbols.
Its statement also said the company was harassed earlier this month by messages and phone calls from a group of neo-Nazis angry about Bumble's "stance towards promoting women's empowerment."
Tinder co-founder Tiffany Wolfe started Bumble in December 2014. On Bumble, after a heterosexual match is made between users, only the female user can initiate a conversation.
APPLE CEO TIM COOK SAYS COMPANY WILL DONATE $1 MILLION TO ADL (JTA) — Apple CEO Tim Cook pledged that his company will donate $1 million each to the Anti-Defamation League and the Southern Poverty Law Center in the wake of the violent far-right rally in Charlottesville, Virginia.
Apple also will match employee donations to the two groups and others two for one through September, according to a memo Cook wrote Wednesday night obtained by BuzzFeed News.
Cook said he strongly disagrees with President Donald Trump's comparison between the neo-Nazi and white supremacist protesters and those who opposed their rally in Charlottesville.
"Hate is a cancer," Cook wrote. "This is not about the left or the right, conservative or liberal. It is about human decency and morality."