PrayerWorks provides path for healing
Published: Thursday, 17 August 2017 11:02
Written by Ellen Portnoy, Contributing Writer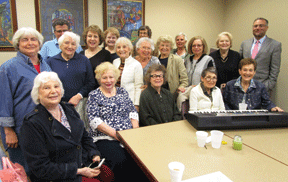 On Aug. 26, Congregation Beth Shalom will celebrate the 20th anniversary of its innovative PrayerWorks program at Shabbat services beginning at 9:30 a.m. Members of PrayerWorks group will participate in the service, which is chaired by Nata Scharf.
A diagnosis of breast cancer in 1997 led to the creation of Beth Shalom's community PrayerWorks program. Rickie Haith, the founder and long-time facilitator, was diagnosed with cancer in January 1997. Her good friend, Judy Bell, had been diagnosed with cancer previously. In their efforts to help each other heal, they prayed and supported each other.  
Then in the summer of 1997, the Rabbinical Association of Greater Kansas City sponsored three healing services in the community. The two women went to these programs, and the idea of PrayerWorks was born. Bell suggested that Haith start a prayer group.
"Spirituality was all the news for a long time," Haith said. "In the middle of the '80s it was a common topic. But if I asked people about God, they would shrug. But personally, I derive my life force through my belief in God, Judaism and Torah."
This intense belief in the healing power of God led Haith to research healing services and the power of prayer in healing. She believed that reading psalms and joining with others would help those in need of physical, emotional and spiritual healing.
Haith and Bell went to the rabbis at Beth Shalom, then Rabbi Alan Cohen and Rabbi Emeritus Morris Margolies, of blessed memory. They both were supportive of the idea. The Sisterhood, with Toba Maslan as president, and Elisa Pener (one of Haith's daughters) as community service vice president, gave their support as well. In November 1997 the PrayerWorks group met for the first time with six founding members. It has continued uninterrupted for 20 years.
The focus of PrayerWorks is to help heal others.
"There are prayer groups all over the world. We just did not have one in KC that I knew of," Haith said. "It is a Jewish tradition to pray for those who are ill. We do the mishebarach prayer. But we did not have a group to pray together. Since having a group is supposed to be very powerful, I wanted the people to pray for other people — to have a selfless pray; to help people to recover with emotional, spiritual or physical healing. That was our goal. To pray for someone could be a prayer for inner peace as well."
The group has been meeting continuously ever since. A core group of 12-25 people come on a regular basis. Others seem to come and go as the need arises. Haith has led all but three of the programs. And she remembers each one that she missed. The most traumatic happened in 2011.
"We not only sustain PrayerWorks, it sustains us. It kept me alive," Haith said. In 2011 while visiting her grandson in England with her daughter and son-in-law, Dion and Howard Lutzk, Haith had a medical emergency. She ended up in the emergency room, where doctors felt she needed a risky medical procedure: stopping and then restarting her heart. She told Dion to say psalms for her, which Dion started reciting in the waiting room. Another Jewish woman who was also there helped Dion recite the prayers. Miraculously Haith's heart started beating in a better rhythm on its own.  
"We feel she (the woman in the waiting room) was an angel sent to help me," Haith said. Dion contacted Bell and told her she would have to lead the PrayerWorks that week. The group prayer focused on Haith and her healing.
"They prayed for me," Haith said. "And I think their prayers were powerful."
Today PrayerWorks is one of the few Jewish prayer groups that still exists. Haith has helped form groups in other cities, but after a while they seem to dissipate. She believes it depends on who is leading the group. In Kansas City, a second group was formed by Sharon Friedman at KI. Friedman was a regular member of the Beth Shalom group, but wanted to offer an evening prayer group.
The Beth Shalom PrayerWorks group meets throughout the year on the fourth Wednesday of each month from 10 to 11:30 a.m. at the synagogue. Occasionally the group meets at Village Shalom. All sessions are open to the community.
Haith believes it is the dedication of the participants who keep the program going.
"I am not to be honored," she insisted. "It is the ones who come, who believe they can help heal others through collective prayer."
"Some people come for a short time because they come for a crisis," she added. "I am happy to have them come. They come to heal themselves, but it really is best to pray for others. Some have prayed for a spouse or a job. If it works or not, we do not know. But I do know that you have to have hope or a positive attitude. If you think positive, then positive things will happen!"
Haith is excited about the service on Aug. 26.
"We are so excited about having this service at Beth Shalom," she said. "The regulars, men and women; Jewish and non-Jewish, are participating."
Six founding members remain active. In addition to Haith and Bell they are Anne Bratt, Gertie Epstein, Joan March and Janet Price.
PrayerWorks has received several awards, including one from International Women's League for Conservative Judaism. Haith has led a healing service at an International Women's League Convention, as well as conducting healing services throughout the U.S. The sessions were conducted during her presidency of the Midwest Branch of Women's League for Conservative Judaism and while she was vice president of International Women's League and serving as a trainer and consultant.
For information or to leave a name of someone in need of physical, spiritual or emotional healing, call Haith at 913-341-8707. All names are left on the prayer list a minimum of three months unless notified. A PrayerWorks at home cassette or CD is available, as well as "Power of Prayer" booklets, at no charge.