Jewish Culture Fest celebrates its 10th event, features 45 artists
Published: Thursday, 17 August 2017 11:00
Written by Marcia Horn Montgomery, Contributing Writer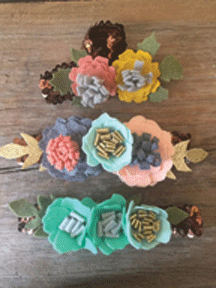 Jewish Culture Fest (formerly Jewish Arts Festival) is celebrating its 10th event from 11 a.m. to 7 p.m. Sunday, Sept. 10, outside at the Jewish Community Center (The J).
Melissa Anderson, cultural arts marketing and events coordinator at The J, said the name change makes sense.
"This year it's encompassing more Jewish culture — food, entertainment and art — so it's more of a culture festival than specifically an art fair," she said.
It is anticipated that more than 7,000 people will attend this year's Jewish Culture Fest featuring artists, activities, food, musicians and entertainers and, for the first time, the Kansas City Kosher BBQ Competition.
Forty-five artists will display their works, which include jewelry, paintings, photography, sculpture, ceramics, glassware, fiber and two- and three-dimensional mixed media. The majority of the artists are local residents, many of whom have participated in previous years.
"The visual arts committee is very excited to be showcasing this group of artists," said Joan Cabell, co-chair along with her husband Pete. "Please join us in supporting our artists at the Jewish Culture Fest."
Fiber
Amy Ravis Furey, Overland Park, works with various textiles sewing her handmade crafts and recently opened a studio called Little Furey.
"My work is about raising consciousness and creating a better world stitch by stitch, one creation at a time," she said.
Little Furey designs celebrate traditional maker skills in an innovative way. Handmade crafts are often seen as a passive and predominantly female pastime.
"By turning these stereotypes on their head and subverting them, I am able to be proactive and resistant with my chosen medium of recycled materials, vintage hoops, felt, yarn, the creative use of words and vibrant color," said Ravis Furey.
She said crafting allows her the medium to make a difference, whether by fighting oppression or by adding a little more beauty and color to the world.
Photography
Many people in the Jewish community know Scott Fishman as a photographer of people and events, but few are aware of his many landscapes, cityscapes and nature photographs. His work can be viewed at sfishmanphotography.com.
The Leawood resident said he's excited to be a part of Jewish Culture Fest this year.
"It's a great opportunity; I don't know how many people have seen my landscape work, which is what I'll be showing," he said. "My great passion is nature and landscape, so I'm very honored and pleased to show that body of work."
Fishman said he's also honored to be one of the 2016-2017 Fellows of the Midwest Jewish Artists Laboratory, with the theme "Outside | Inside: Exploring Boundaries and Otherness," now showing at The J until Sept. 30.
When he was fresh out of college with degrees in business administration and law, Fishman became a financial consultant. After 15 years in San Diego, he came home to Kansas City and joined the company his father began nearly 40 years ago, Fishman Commercial Real Estate.
He was bitten by the photography bug during college so eventually joined several clubs and started showing his work publicly. He started his own photography business in 2016. 
Jewelry
Loren Stein is a Judaic artist from Boca Raton, Florida. She creates wearable art in precious metals and stones. Many pieces are customized and personalized with prayers and blessings.
Stein has owned her own design and consulting company, Loren Stein Designs, since 1990. Visit her website at lorensteindesign.com. Her work also includes ritual art, including Kiddush cups, candlesticks and mezuzot, and paper cut artwork with Hebrew text, personal family blessings, ketubot and invitation frames.
She has taught studio art to elementary age students through 12th grade, and currently teaches high school studio art. She is the head of the art department at Weinbaum Yeshivah High School in Boca Raton. Her background in architecture has been an asset in giving her the skills to create multi-media works with dimension and depth.
Diana Abitz of Prairie Village will also be displaying her collection of jewelry at Culture Fest. She is a geologist/designer and you can see her work at thedianacollection.com.
According to her biography, Abitz has been interested in rocks and minerals since childhood. She graduated with a degree in geology from Trinity University in San Antonio, Texas, becoming a consulting geologist.
In seeking ways to spread an appreciation of the earth's treasures, Abitz has created a stylish collection of hand-selected rocks, minerals and shells to enhance the look and lifestyles of today's sophisticated woman.
Each of her pieces is a timeless treasure from the earth and come with a card explaining the historical interest of the stones, the geologic information and the perceived metaphysical powers of the stones used to create each unique look.
Painting
Kirill Novikov's family immigrated to the United States from Russia in 1979. Some of the themes explored in Novikov's work deal with yearning for freedom as well as peace.
Using acrylics, Novikov's process includes removing paint using various tools and the resulting image is an abstraction of nature. Other materials used are oil pastels and resin with some sanding used between layers to reveal colors in underneath layers.
Novikov, who resides in Gahanna, Ohio, received his bachelor's degree in engineering from Ohio State University in 1993 and began working for an automotive supplier in Indiana. In his spare time he took a drawing course at Indiana University of South Bend.
He then decided to pursue art full time and earned his master's degree in painting from Miami University in Ohio. He worked as a professor of art at the University of Central Arkansas for four years before setting out on his own.
Now Novikov travels around the country painting and participating in art festivals. His website is kirillnovikov.com.
Tickets to the Culture Fest may be ordered online at jewishculturefest.com. They may also be purchased at The J.