Jewish candidate running for Mission City Council
Published: Thursday, 27 July 2017 10:00
Written by Kelli White, Contributing Writer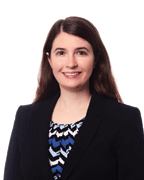 This November, residents of Mission, Kansas, will have three choices on the ballot when they vote for City Council in the Ward IV race. One of them, Sollie Flora, is Jewish.
Flora is running against the incumbent, Suzanne Gibbs, and Bill Nichols. Flora, who grew up in Overland Park, is a civil litigation attorney at Berkowitz Oliver LLP in Kansas City, Missouri, and believes her professional experience will be helpful in the City Council role.
"Analyzing complex issues, finding points of compromise, building consensus, and resolving disputes are all key parts of my current position and are skills that will serve me well on the council," Flora said.
Flora, 31, graduated from Blue Valley Northwest in 2003, earned a sociology degree from Grinnell College in 2007, and graduated from Michigan Law School in 2010.
Outside of college experiences, this is Flora's first time running for public office. However, she began her legal career in government as a Kansas Supreme Court clerk and has always been interested in both politics and finding opportunities to give back to her community.
"I think serving in the local government could pair my passions," Flora said.
Flora serves on the board of SAFEHOME and volunteers for pet rescue organizations. She was previously a member of Congregation Beth Torah, where she became a Bat Mitzvah.
While primaries across the state of Kansas are Aug. 1, there is not a primary election for this race. So Flora is campaigning with a "slow and steady" approach as she prepares for the Nov. 7 election.
"I am currently on my listening tour," she said. "I am knocking on doors and asking people for their thoughts. I want to increase citizen engagement and make sure people have a say in what's going on."
In addition to increasing engagement, central items on Flora's campaign agenda include promoting transparency and consolidating information and making it readily accessible for citizens. If elected, she plans to publish a newsletter, keep the city moving in a positive, proactive direction, and include citizens in the entire process.
"We need more public engagement at the local level. City government can be the most responsive to citizens, but it tends to get less attention. I hope to harness the energy happening at the national level and gear it toward local issues," Flora said.
For more information visit SollieFlora.com or find her on Facebook at SollieFloraKS.