Listening Post
Published: Thursday, 27 July 2017 10:00
Written by Barbara Bayer, Editor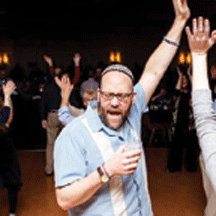 KIDNEY DONOR UPDATE — Following up on a story we reported last week, while Aaron Nielsenshultz is not yet ready to do a celebration dance (see photo), he posted on Facebook that he is home following surgery July 18 where he donated one of his kidneys to Marc Silverman, a member of Congregation Beth Or in Maple Glen, Pennsylvania, where Nielsenshultz serves as director of religious school. On July 21, three days after the surgery, he reported that he was feeling great, "no pain, just some soreness, really — and I can feel that I'm getting stronger all the time."
Many members of the Jewish community know Nielsenshultz from when he worked for Congregation Beth Torah and the Rabbinical Association. He said that the kidney, "now and forevermore HIS (Silverman's) kidney, B"H — is in and working like a champ. He should get home soon."
He went on to say he appreciates all the thoughts, prayers and well-wishes he has received.
A MITZVAH OF ANOTHER KIND — Adam Koss isn't spending his summer like most kids his age. He's seeing a game at every one of the 30 Major League Baseball ballparks — including Kauffman Stadium earlier this month.
What's unusual about this is he is combining his love of baseball with his mitzvah project, raising money for multiple charities including the Juvenile Diabetes Research Foundation, St. Baldrick's and the Make-A-Wish Foundation. Adam is accepting regular donations as well as asking people to join his Home Run Club, where they can donate a set amount for every home run he sees at MLB games he attends this summer. He is hoping to see at least 50 home runs! He saw three in the Royals 5-3 loss to the Texas Rangers here on July 14. He hopes to raise "a lot of money to make sick kids better."
He got the "Royal treatment" while in Kansas City, visiting the Negro Leagues Baseball Museum, being interviewed on 41 Action News and getting a private tour of Kauffman Stadium. To learn more about his road trip, mitzvah project and/or donate, visit adamsmlbroadtrip.com.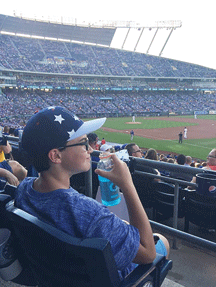 OLD JCC ON HOLMES ONCE AGAIN BECOMES REC CENTER — Kansas City Public Schools (KCPS) has entered into a sales contract with South Waldo Community Investors, LLC to redevelop the Robeson Middle School site, 8201 Holmes, into a multi-use recreation center. The building was the Jewish Community Center from the time it opened in 1961 until it closed in 1984, when the JCC moved to temporary facilities in Overland Park. The reuse plans call for indoor basketball, volleyball and soccer courts and outdoor multi-purpose fields. The development team is also exploring complimentary uses, including a daycare operator, use of the auditorium as a theater and culinary uses. The parties expect to close on the sale in October with renovations to begin in late 2017.
To ensure that the facility and its programs are accessible to local children and families of all income levels, the sales contract includes a provision that the buyer, KCPS and local neighborhood associations enter into a community benefits agreement. The contract also includes a restriction that the buyer will not pursue tax abatement or tax increment financing.