KC music producer, performing artist Gillespie creates The Beat Academy
Published: Thursday, 20 July 2017 10:00
Written by Jerry LaMartina, Contributing Writer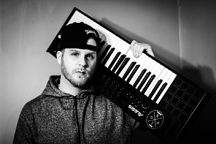 Kansas Citian Justin Gillespie has had a lifelong love of music.
Gillespie, who is Jewish, segued that love into a career and now a new venture: The Beat Academy, a program of the Plaza Academy, an alternative school in Kansas City, Missouri. He graduated from the school in 1998.
Gillespie had the idea for The Beat Academy about a year ago and conceived it as a summer program. He shopped it to several schools earlier this year, and the Plaza Academy agreed to add it to its year-round curriculum as an everyday class, which he will teach with an assistant. 
The program is scheduled to start Aug. 15. He'll spend about three hours a day, five days a week on two classes a day, he said. He expects 10 to 12 students in each class. It will be the only music program at the Plaza Academy.
The Beat Academy will be unique in Kansas City because it will focus on modern music, mostly hip-hop, Gillespie said. 
"We want kids to be excited about going to school and give them a fresh, exciting option and improve their life in school and after school," he said. "The type of music we make is generally more popular with teenagers."
Gillespie will teach his students using music-production software called FL Studio.
"We'll teach them to create music for themselves or others and also radio jingles and other commercial work," he said. "They'll start by learning about different music genres. Some might make music that's more than hip-hop." 
Gillespie's main profession is producing music and working as a performing artist known in the music industry as Info Gates. He makes his own music and has performed in more than 40 states, produced billboard-charted songs and worked with Grammy-winning artists. He produces music for clients locally, across the country and internationally.
He sells the music for a one-time fee and gives all the rights to the artists, and he also takes quarterly royalties when he does work for bigger companies.
Gillespie's parents were musicians, "so I was around it all the time as a small kid," he said. He started playing guitar at age 12 and played in bands in high school. He also played drums, bass guitar and keyboards. 
He took a hiatus from music after high school, became familiar with FL Studio and started playing guitar again. 
"I was ignorant about technical advances in digital music making, but when I realized I could do it by myself, it was an epiphany," he said.   
Gillespie had done a summer camp called the Hip-Hop Academy in 2006 at Paseo Academy of Fine and Performing Arts. He taught students how to become a deejay, and rhyme writing, break dancing and graffiti. This led him to return to his music career.
He went to an audio-engineering school after high school through Johnson County Community college. He's 37, and he attended the Hyman Brand Hebrew Academy through fifth grade and became a Bar Mitzvah at Kehilath Israel Synagogue. He attends Congregation Beth Torah during the High Holidays.
His mother, Karen Agron Flattery, worked in various capacities in the Jewish community for many years. 
Gillespie hopes to expand the program to every school in the Kansas City area, both traditional and alternative schools. The Plaza Academy's students tend to have been unsuccessful at traditional schools. The school designs its curriculum to prepare its students for college, other schooling after high school or immediate entry into the workforce.
The school focuses on involving the students' families and teaching critical thinking, creative problem solving and verbal and written skills.
Gillespie said that he hoped problems with students in the new program would be minimal but that he anticipated a possible lack of discipline and attention from students. He hopes the program will help students improve in those areas.
"Our goal is to expand the program to every school," he said. "It'll be two classes every day, fifth and sixth hours. We're trying to modernize the kids' options as far as music education goes."
The program will be paid for entirely through fundraising, not by the Plaza Academy. Gillespie aims to raise $8,500 and has raised a little more than $1,000 so far. About $4,500 will enable him to start the program. He'll use the funds to buy the software, laptop computers and other equipment.
He plans to have a fundraiser at 9 p.m. Aug. 5 at Stockyards in the West Bottoms, a brewery and private-event venue. People can call 816-210-7652 or send email to This email address is being protected from spambots. You need JavaScript enabled to view it. for more information or to make a donation.  
The Beat Academy's strength lies largely in serving as an option for students' music education and providing a way to boost students' interest and dedication to all their other classes, Gillespie said.
"All the traditional classes are great and completely necessary, but kids deserve to have an option of something they really want to learn about," he said. "Hip-hop for these kids is a very high-demand class. We want this to spark in them an overall interest in school, the ability to focus, confidence with public speaking and collaboration with others."
The program also is important because of music's fundamental importance to everyone, he said.
"Music brings personal satisfaction and being creative," he said. "It can give you the opportunity to travel, perform and meet a variety of people. Most of my friends I've met through music. It lets you meet like-minded people. It's good to have expectations of being a huge rock star, but if you just go with the flow, you can make a career out of it.
"We really want to show that if we can help these kids (with behavioral problems), we can help any kids," he said. "For fundraising, maybe people will want to be around at the beginning of something that will get really big."