SME grad playing lacrosse in Maccabiah games, new Israel premier league
Published: Thursday, 06 July 2017 10:00
Written by KCJC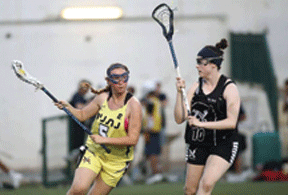 Sabina Skolnick has been busy since she graduated from Shawnee Mission East High School in May. Chosen in 2015 to play on Israel's U-17 National Development Program Women's Lacrosse Team, she was invited to return this summer to live in Ashkelon, train with Israel National Lacrosse and teach youth lacrosse. While there she will represent Team Israel in the Maccabiah Games. The first game was set to take place Wednesday, July 5, versus USA. The Israel team is expected to play Great Britain today, July 6. The playoff is scheduled for July 10, with the championship game slated July 11 and the All-Star Game on July 13. All lacrosse games will be played in Netanya.
The games are being held in various cities throughout Israel from July 4 through July 18. Ten thousand athletes from 80 countries in 47 sports are expected to compete.
Prior to the Maccabiah, Skolnick played in the inaugural season of the Women's Israel Premier Lacrosse League (WIPLL). The league is comprised of primarily collegiate players with NCAA eligibility remaining, with clubs in Ashkelon, Be'er Sheva, Kiryat Gat and Netanya, and competed in a condensed five-game schedule from June 22 through July 5, specifically designed to provide an opportunity to collegiate athletes and recent graduates who are interested in training and competing with an elite group.
Skolnick, who wore No. 10 for Ashkelon in the WIPLL, said, "It is remarkable to participate in the game of lacrosse with women from North America, Europe and Israel, in a region that has never seen the game before. It promotes strong females having fun, getting active and spreading the love of Lacrosse. (It's) an incredible experience!"
Participation in the WIPLL goes beyond the playing field. Athletes also can directly contribute to the development of lacrosse in Israel by coaching youth teams in their cities and utilizing lacrosse to serve their community. Additionally, WIPLL players can expand their impact through participation in an Israel Lacrosse internship by making a four- to 12-week commitment (in the months of June-August) to immerse themselves into an Israeli city and offer their knowledge and talent to young athletes. Skolnick is spending six weeks in Ashkelon teaching lacrosse to kids who have been classified as "at risk."
This is Skolnick's fourth visit to Israel. She also spent the summer of 2016 in Ashkelon training and teaching kids. Her first visit to Israel was when she became a Bat Mitzvah at Robinson's Arch.
This coming year, Skolnick, a member of Congregation Ohev Sholom, will play lacrosse for the College of Wooster Women's Fighting Scots, a NCAA Division III team, in Wooster, Ohio. 
She is the daughter of Lisa and David Skolnick and was a four-year varsity player on the lacrosse team at Shawnee Mission East. As a senior in 2017, she was named to the All Metro First Team, Defense and she was also named to the All Metro Academic Team. As a junior she was named to the 2016 All Metro Team.