Strike out mitochondrial disease with 'Bowling with Barb' grand finale fundraiser
Published: Thursday, 22 June 2017 11:22
Written by KCJC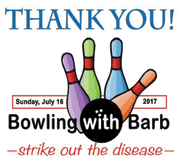 The 10th and final "Bowling with Barb" event will be held from 2 to 4 p.m. Sunday, July 16, at Ward Parkway Lanes. The event raises funds to support research to find a cure for mitochondrial disease, which is part of the Muscular Dystrophy umbrella of diseases.
Barb Mendelsohn is the "Barb" in the "Bowling with Barb" name. She is a Kansas City native who began experiencing symptoms of mitochrondrial disease when she was in her late 20s. It wasn't until she was in her mid 40s — after she experienced several seizures and stroke-like episodes — that she received a definitive diagnosis of mitochrondrial disease. 
So far "Bowling with Barb" has raised more than $100,000 toward mitochondrial disease research.
Bowling will take place from 2 to 4 p.m. A silent auction will also take place from 1:30 to 3:30 p.m. A minimum $25 donation is requested from anyone wishing to bowl. Non-bowlers are encouraged to come bid on silent auction items and share in the fun. All donations to "Bowling with Barb" are tax deductible. 
Making a return appearance this year will be Joe Hot Rod and the Spark Plugs, a band popular with Mendelsohn and her peers during the mid-'70s. Originally created for a Camp Sabra talent show by Bruce Wasserstrom, Ron Altman and Ron Fredman, the group expanded to include a number of other members of AZA. The group reunited for the first time after 40 years two years ago. This year 10 musicians, including Wasserstrom, will perform once again.
For more information regarding registration for "Bowling with Barb," call Mendelsohn at 816-589-1144 or email This email address is being protected from spambots. You need JavaScript enabled to view it.. To make a donation, make checks payable to CHP (Children's Hospital of Pittsburgh) and mail them to Bowling with Barb, c/o 11510 Ballentine, Overland Park, KS 66210.