Listening Post
Published: Thursday, 22 June 2017 11:02
Written by Barbara Bayer, Editor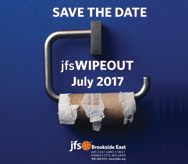 THE UNTOLD STORY OF SEDALIA'S TEMPLE BETH EL — Deborah Silberstein Stoeckle is looking for information regarding Temple Beth El in Sedalia, Missouri. She is writing a book about it and hopes anyone in the Kansas City Jewish community who knows anything about the history of that congregation or the people who are members will contact her with their stories. Here's a little about her story:
Shortly after the Civil War Temple Beth El was established in Sedalia and thrived until 2001. In 1961 the small group of Jewish families raised enough money to build a lovely new synagogue to celebrate weddings and anniversaries; to enjoy Hanukah dinners and light the Sabbath candles. Temple Beth El was a vibrant community located only about 90 miles east of Kansas City in the 1930s to 1960s. Additionally, the Hebrew National Cemetery was established soon after the first Jews moved to Sedalia. There are more than 200 headstones in this Jewish cemetery located at 28th and Grand.
Like many other small Jewish congregations throughout the United States that once were so important in their small towns, Temple Beth El no longer exists. Most of the member families moved on to other places and no new members moved into Pettis County or nearby communities. 
Stoeckle, who was born in Sedalia and grew up in this synagogue, moved to Maryland after graduating from the University of Missouri and is collecting information about the history of the families from her Jewish community. She hopes the book will preserve the legacy of Temple Beth El and assure the families, and the community of Sedalia, know about this resilient and resourceful group of people.
For her research, Stoeckle has been in contact with several Jewish historical organizations including the Missouri Historical Society, St. Louis Jewish Archives and the National Museum of American Jewish History in Philadelphia. None of these have any documentation of Temple Beth El in Sedalia.
Stoeckle is hoping to learn more about the Sedalia Jewish community. Her focus is on the contributions they made to Sedalia in their work or volunteer efforts as well as their determination to preserve their Jewish faith and traditions from 1868 to 2001.
If you have a story you would like to share about people in the Sedalia Jewish community, email Stoeckle at This email address is being protected from spambots. You need JavaScript enabled to view it..
JWV BOOK UPDATE — Through a story in The Chronicle and other marketing efforts, the Jewish War Veterans MO-KAN Post 605 now has the names of more than 4,500 veterans on file to be listed in its upcoming book. If you, or one of your family members, is a Greater Kansas City veteran of World War II, Korea, Vietnam, Desert Storm, Bosnia, Iraq, Afghanistan, or any of the peacetime forces and you/they want to be included in this book, now is the time to get in touch with them! Complete the online survey by going to https://www.surveymonkey.com/r/kcveterans. 
If you prefer you can mail the survey to the JWV c/o Jewish Community Foundation of Greater Kansas City at 5801 West 115th Street, Suite 104, Overland Park, Kansas 66211, email Kristin Rissler at This email address is being protected from spambots. You need JavaScript enabled to view it. or call 913-832-3696. There is no financial obligation for participation. This book, "FOR THOSE WHO SERVED OUR COUNTRY: A Tribute to Greater Kansas City's Jewish Veterans," is for vets, their children and their children's children. Don't let the heroism of our veterans slip away without notice. But the book will only be as good as you want it to be. Provide your information via survey or separate letter by June 30, to be included in this once-in-a-lifetime opportunity. Copies will be available through a later notification.