From Leawood to Israel Defense Forces
Published: Thursday, 08 June 2017 12:40
Written by Sybil Kaplan, Contributing Writer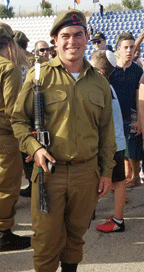 Jewish communal leaders have been saying for years that trips to Israel make a big impression on young people who participate. That's certainly true for Ricardo Zepeda.
Zepeda is the 21-year-ol son of Sandra Suffian and Ernesto Zepeda. While a student at Hyman Brand Hebrew Academy, he was active in the Jewish community as a teen. Affiliated at both Congregation Beth Shalom and BIAV, he became a frequent Torah reader at Kehilath Israel Synagogue. He served on the chapter board of USY, even serving as chapter president. He added to his busy schedule by serving on the chapter and regional boards of NCSY. Zepeda also went on the NCSY Kollel trip to Israel in 2012.
After graduating from HBHA in 2014, his first stop was the Jacobs School of Music where he was an oboe performance major.
"I chose a music school because I love music but dropped after two years once I realized I didn't want to be a professional musician," he said.
Soon after making that decision, in May 2016 he went to Israel again on Birthright, already knowing he planned to move to Israel.
"I wanted to go with a friend who had never been to Israel before. Going strengthened my decision to make aliyah. I had just dropped out of music school and decided to challenge myself in a different way. The moment we left the airport on the bus, I remember looking at the landscape and thinking about how excited I was to be moving to Israel."
After a brief trip back to the States at the end of June 2016, Zepeda made aliyah through Nefesh b'Nefesh. This organization facilitates the aliyah process by removing professional, logistical and financial obstacles, most often also paying the airfare for potential immigrants.
"They made my aliyah process extremely smooth," Zepeda said.
Upon returning to Israel in July 2016, he went to an ulpan (intensive language program) on Kibbutz Yagur. Kibbutz Yagur is Israel's second largest kibbutz with 1,500 members, founded in 1922 on the northeastern slope of Mount Carmel, 5 1/2 miles southeast of Haifa. 
"I went to Yagur because it fit with my dates. I thought that doing ulpan on a kibbutz would be easier. It ended up being a very unique experience. There were many interesting people, and I achieved my goal of immensely improving my Hebrew."
After the ulpan and another trip to the States, this time at the end of December, Zepeda joined Garin Zabar, a unique program for lone soldiers — soldiers who do not have immediate family living in Israel. This program is for men 18-24 and women 18-23, who wish to make Israel their home and serve in the Israel Defense Forces.
"Because I am Jewish, I decided that I could challenge myself as well as do something meaningful in my life by serving in the IDF."
After completing the pre-draft process, Zepeda was drafted in March 2017.
"I am currently in basic training in combat engineering, learning how to operate as a combat soldier as well as to clear minefields and plant and detonate explosives." 
Zepeda says he chose combat engineering "because when I was doing research on units in the army, it was something that I hadn't heard of, and with more research decided it would challenge me in more ways than being in a regular combat battalion would." 
When Zepeda completes this course at the end of July, he will take another three to four months of advanced training. 
As part of a garin — a group of closely-knit people with a particular focus —when Zepeda is not on active duty his home is a village in southern Israel, less than 2 miles from Sderot, the city that has suffered from ongoing attacks of Qassam rockets from Gaza (less than a mile away) since 2001. 
The village houses four garinim, Russian olim (new immigrants) and students who attend Sapir College in Sderot.
Currently, Zepeda is signed up with IDF for two years, but he said he is open to extending his service.  
When he does finish, he plans to travel and then attend university, but he is not sure if he will study in Israel or the States.
After being in Israel for one year and being in the army two months, would he recommend other young men and women make aliyah and join the Israel Defense Forces?
He answers candidly, "I would recommend it to people, but only if they understand the decision they are making. Aliyah and the army are both difficult things to succeed in. Being in the army presents a challenge which you will have to confront every day.
"Most olim join the army with unrealistic expectations of what it actually means to serve in the IDF. Although it may be a meaningful experience at the end of the day, not every moment is meaningful as they expect.
"I joined, knowing this, and enjoy the army because it provides me with a challenge to prove and improve myself every day."
FIDF Tribute to Israel's Soldiers
Friends of the Israel Defense Forces will present a dessert reception and program featuring Izzy Ezagui at 7 p.m. Thursday, June 15, at Kehilath Israel Synagogue.
Ezagui is a decorated Israeli squad commander who is the only commander to lose an arm in combat and return to the battlefield. A motivational speaker, Ezagui continues to serve in an elite unit in the IDF reserves. 
One of the many things FIDF provides is guidance and support to all IDF Lone Soldiers, such as HBHA graduate Ricardo Zepeda. Admission is free, but advance registration is required. To register or for more information, contact Orley Desser, development director, at 312-372-8512 or This email address is being protected from spambots. You need JavaScript enabled to view it.