Listening Post
Published: Thursday, 01 June 2017 10:00
Written by Barbara Bayer, Editor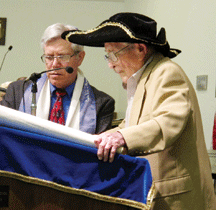 MAY HIS MEMORY BE A BLESSING — Abraham Meth passed away on May 27 in Sun City, Arizona, just a few days before his 105th  birthday. A Holocaust survivor, Meth moved to Kansas City from Hungary in 1948 and lived here until the mid-70s, when he moved to Arizona. While he lived here, Meth served in many capacities at Congregation Beth Shalom. According to the funeral home in Arizona, the family did not prepare an obituary.
SIX DAY WAR MEMORY — A few weeks ago we asked for memories of the Six Day War. One of those stories is on page 4. The following is one we received from Stu Lewis:
My wife (of blessed memory) and I were married June 11, 1967. During the weeks before the wedding, instead of devoting ourselves to last-minute details, we spent much of the time checking the newscasts, which were casting a pall on our upcoming ceremony. (On our first date, we had compared notes on our trips to Israel). My most vivid memory of my bachelor party was when Frank Loeffler (Hilary's uncle, though only a couple of years her senior) returned to the party with an update that the last holdout, Syria, had signed the truce agreement, bringing the hostilities to an end. That may be a unique bachelor-party memory. I also recalled that while we were on our honeymoon, we kept the car radio tuned to the U.N. post-war deliberations.
VIDEOS BRING SIX DAY WAR TO LIFE FOR MILLENNIALS — Just in time for the 50th anniversary of the Six-Day War, Jerusalem U is releasing the free video series: "Countdown to the Six-Day War" — 12 short videos that bring the Six-Day War to life — in real time.
"For many young people today, the Six Day War is old news — literally 50 years old," said Zeev Ben Shachar, director of education for Jerusalem U. "That's why Jerusalem U made the free video series "Countdown to the Six-Day War." That's so they can re-live this transformative experience for Israelis and Jews around the world."
The 12 short videos unfold in real time, showing what happened on each day leading up to those fateful six days. The six days themselves get special treatment — with a short film for each day. The videos are presented in partnership with the Jewish Council for Public Affairs (JCPA), The Jewish Federations of North America, Jewish National Fund, Israel Action Network, the Center for Israel Education, European Jewish Congress, and The Jerusalem Post.     
"For those of us who were not alive when the Six-Day War happened, this new video series from Jerusalem U and its partners allows us to experience it in real time," added Ben Shachar. "It is our hope at Jerusalem U that we bring this important historical event out of the history books and into the eyes and ears — and even smartphones — of Jews around the world."
The free video series "Countdown to the Six Day War" is available at sixdaywarproject.org.