Finding her place as a rabbi: Woman with B'nai Jehudah ties set to be ordained by HUC-JIR this month
Published: Thursday, 11 May 2017 10:00
Written by Ellen Portnoy, Contributing Writer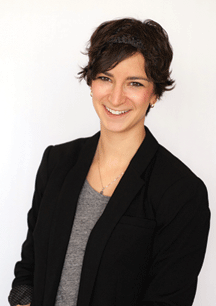 Rachael Klein Miller found her purpose in life when she realized she wanted to become a rabbi.
"The things I love to do, a rabbi gets to do," Miller said. "Writing, public speaking, helping others, running lifecycle events are all part of what a rabbi does. I found my purpose in life and wanted to continue.
Miller is now in her last year of rabbinical school at the Hebrew Union College, Jewish Institute of Religion, Cincinnati Campus. But her road to becoming a rabbi started at the Temple, Congregation B'nai Jehudah, where her parents, Jeff and Deb Klein belonged; and where she was named, had her religious school training, became a Bat Mitzvah, and then was confirmed.
"I grew up active in synagogue," she said. "I spent a lot of time seeing the work our rabbi did. But when I was in middle school the synagogue hired Rabbi Neal Schuster. He had an earring! He showed me that a rabbi does not have to look one certain way, and that related to me. He showed me aspects of being a rabbi that I had not seen before."
In the end, Rabbi Schuster became one of her mentors.
"I had not been with a rabbi studying Torah," she added. "But as a middle school student, it was the first time I had the opportunity to study and read Torah with a rabbi, as Rabbi Schuster ran programming just for teens."
Rabbi Schuster is not surprised that Miller chose to become a rabbi. 
"I got to work with Rachael for her Bat Mitzvah and confirmation," he said. "She was always one of those students who really loved to engage with the material and explore ideas. Even when most of her life was consumed with soccer (which she was very serious about), the importance of her Judaism was just a given in her life. And it was a given in a way that involved not only learning, but also shaping it, making it something that belonged to her. "
Rachael was active in the local NFTY and BBYO organizations, serving as the religious and cultural vice president of the local NFTY. But her career path was not yet set. At first, she did not realize she would become a rabbi. She started her undergraduate years at Drake where she went to play soccer. But in the end she transferred to America Jewish University in Los Angeles where she earned a bachelor's degree in Jewish Studies.
"I have always felt a sense of God in the world," she said. "And that serving God gives me a sense of purpose and one that I look forward to sharing with my community."
Both Rabbi Schuster and Cantor Sharon Kohn, another of Rachael's early mentors, believe she will be a wonderful rabbi.
"It is always a pleasure when a former student becomes a colleague," Cantor Kohn said. "Rachael has taken her thirst for Jewish knowledge and her gift of connection with people to create and exciting path as a rabbi."
Rabbi Schuster added, "I think she will be a fabulous rabbi. I'm very much looking forward to having her as a colleague."
Her path to becoming a rabbi will soon be completed. Along the way she met another rabbinical student while studying in Israel, her husband Max Miller. He will also complete his rabbinical studies this spring. They were married on August 15, 2015, Rosh Hodesh Elul. And since their marriage, their rabbinical focus has joined together as well.
The most interesting and exciting project she accomplished occurred this year, when she and Max worked on their final project together. They started a program called "The Table." Its mission statement is "An initiative whose dream is to partner with Jewish young professionals to celebrate Shabbat in their homes throughout the city." They started the program in Cincinnati, with a goal of reaching 100 unique individuals. They have accomplished this goal.
"We networked to find hosts and then used social media to recruit the guests," Miller said. She and her husband bought all the raw ingredients and then taught the hosts how to make a Shabbat dinner. The experience was fabulous and meets her expectations of what she wants to achieve in her rabbinical career.
"I not only love to connect people to one another," she said, "but I also love to connect them to Judaism that informs their lives: To teach them through Jewish text, the value of Hebrew, the role of Israel, the place of halachah (Jewish law) in Reform context, and the spectrum of Jewish tradition and observance."
Her experience in rabbinical school met her expectations.
"I came into it expecting to continue my undergraduate studies as well as develop my interpersonal skills and professional side, leading services, preparing for holidays, teaching children and adults," she said. "And during our time in rabbinical school, we served small congregations in the Midwest." 
These experiences, for her in Rapid City, South Dakota; Sandusky, Ohio; Seminole, Oklahoma; and the University of Michigan, as well as four years of working at Isaac Wise Temple in Cincinnati, has prepared her for the next step.
Rachael and Max will be ordained on May 20. They are then going to be assistant rabbis at Temple Emanu-El in Sandy Springs, Georgia, a suburb of Atlanta. This is the congregation in which Max grew up. Rachael is excited for the new beginning and the continuation of her work as a rabbi. Her mentors are as well.
"I know the souls she touches in Atlanta will benefit from her vision and energy," Cantor Kohn said.  "I look forward to her continued growth as she and Max take these next steps in their lives."