Listening Post
Published: Thursday, 11 May 2017 10:00
Written by KCJC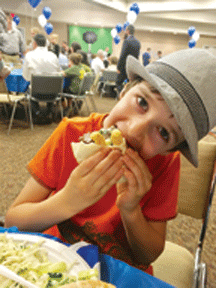 GO FUND ME CHILDREN'S ALBUM — Our friend Matt Rissien, who now lives and works in the Chicago area, is hoping to write and record a Jewish children's album this summer!
The album will focus on teaching different Jewish values in a fun and creative way through music. Themes for this album will include tikkun olam (making the world a better place), tsa'ar ba'alei hayyim (Jewish laws on treating animals properly), tzedakah (charity) and pikuach nefesh (saving a soul). Before he can get started, he needs to raise money to pay to produce the project and he's hoping $2,000 will do the trick. Anyone who donates more than $10 will get a free CD when it's released. To make a donation, visit gofundme.com/matts-jewish-childrens-album. To keep up with the program, like his Facebook page: Matt Rissien's Jewish Children's Music/Album.
AEPi's 2017 ROCK-A-THON A SUCCESS — It rained the entire time during AEPi's bi-annual Rock-A-Thon weekend in Columbia, Missouri, but it didn't stop the brothers from raising $102,000. The money will be donated to the American Cancer Society for use in non-Hodgkin lymphoma research.
AMY THOMPSON RUN FOR BRAIN INJURY — Several members of the Jewish community are heavily involved with the 30th annual Amy Thompson Run for Brain Injury, scheduled to take place Monday, May 29, in and around Loose Park in Kansas City, Missouri. Proceeds benefit the Brain Injury Association of Kansas and Greater KC (BIAKS), the only nonprofit in the area serving individuals with brain injury. BIAKS provides prevention programming, referral and resource information, support group coordination, and ongoing education for professionals working with individuals who have sustained traumatic brain injuries. Robin Abramowitz is BIAKS' executive director, Bev Jacobson is its development director and Cathy Levin, whose daughter Katie Zemel was the 2014 honoree, is on the event's planning committee. Activities include an 8K, 5K run/walk, and a Walk for Thought. The activities conclude with the Fun4kids Event for youngsters 8 and under. Registration is already underway and fees increase starting May 16. To register or for more information, visit www.amythompsonrun.org. To learn more about The Brain Injury Association of Kansas & Greater KC visit http://biaks.org/index.htm.
DID YOU KNOW LANE BRYANT WAS JEWISH — The other day I was reading JEWNIVERSE, one of the sites owned by 70 Faces Media, Inc. the company that owns one of our partner news agencies, JTA, and I came across this story about Lane Bryant. Born Lena Himmelstein, she came to the United States and New York City in 1897 as a 16-year-old Jewish orphan from Lithuania. She worked in a sweatshop for $1 a week. Learn more about how she became Lane Bryant by visiting www.thejewniverse.com