Law students establish KU Jewish Legal Society
Published: Thursday, 04 May 2017 10:40
Written by Macie Clawson, Contributing Writer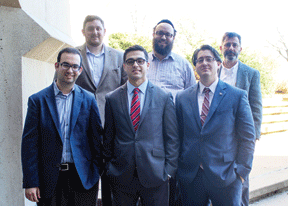 Jewish life continues to grow in Lawrence and now the University of Kansas School of Law has a club with a Jewish heart.
First year law student Jacob Elberg, with the help of three colleagues, has introduced the KU Jewish Legal Society. Elberg started the group with the mission to "bring the Jewish community to the law school through exploration and sharing of Jewish perspectives on theological traditions, legal ideas, culture and values."
This is Elberg's fifth year on the KU campus. As an undergrad — he graduated in 2016 with a degree in communications and a minor in journalism — he participated in Jewish activities on campus, taking part in both KU Hillel and KU Chabad programming. Seeing that a Jewish group did not currently exist at KU Law, Elberg decided to create one with colleagues Jacob Nemeroff, Davis Bauer and Joseph Uhlman.
"I thought it would be nice to have a Jewish presence at the law school. I think Jewish values and ideas are a great addition to the diverse ecosystem that is KU Law," said Elberg, who is serving as the club's first president. 
After just a few months of preparation, the club had its first event on March 7. The meeting aimed to compare and contrast American law with Talmudic law. Special guests included Rabbi Zalman Tiechtel, director of KU Chabad; Jordan Yochim, director of the Kansas Bar Association; and Daniel Singer, a Jewish attorney with the firm of Shamberg, Johnson and Bergman in Kansas City. 
Co-founder and Treasurer Joe Uhlman said the establishment of KU Jewish Legal Society is important. 
"In uncertain times, visibility is a group's biggest asset. Jewish people at KU Law haven't had an organization in over a decade, and it's important this organization exists and is seen," said Uhlman, a second-year student from Sedgwick, Kansas, with plans to specialize in criminal prosecution.
Co-founder and Vice President Jacob Nemeroff said this club is significant because it brings together Jewish law students and the Jewish legal community of Kansas City.
"It lays the groundwork for the creation of networks within the law school and the Kansas City area," Nemeroff said. Also a first-year law student, he hails from Atlanta and earned degrees in both economics and Italian at KU and hopes to parlay his experiences into a specialization in business law.
Nemeroff anticipates the club will help him and other Jewish students at KU gain a sense of community.
"I also hope it will create a welcoming and thriving community that will attract well-qualified Jewish students to KU Law," he continued. 
The group is also attracting non-Jewish students, including Davis Bauer, a second-year law student and a graduate of the University of Arizona with a degree in business marketing. He is the group's marketing coordinator.
"I joined Jacob in the club because we are good friends, and because this organization is a great opportunity to learn about the law from a different perspective," said Bauer, who hopes to specialize in criminal law.
While there are many things to look forward to when it comes to a new club, Bauer is excited about the outreach aspect.
"I hope this club attracts individuals that are intellectuals wanting something more from their typical law school experience."
In addition to marketing, Bauer is also in charge of organizing events and public relations. Initial plans for the Jewish Legal Society include meeting a few times a semester and hosting one large event per year.
"Each year we will have an annual event highlighting Judaism and the law open to KU and surrounding communities. The event will bring the KU student body a taste Jewish culture and the law," Elberg said.
For more information about the KU Jewish Legal Society, contact This email address is being protected from spambots. You need JavaScript enabled to view it..