John Isenberg to be honored for a lifetime of kindness by Synergy Services
Published: Thursday, 27 April 2017 14:32
Written by KCJC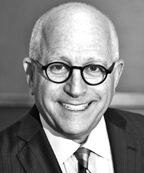 Celebrating the tremendous impact of kindness in overcoming violence in our community, Synergy Services is set to host the 27th annual Kindest Kansas Citian Awards Dinner.
The event, planned for May 5 at The View at Briarcliff in Kansas City, Missouri, raises money for Synergy's STOP Violence programs, which provide anti-bullying and other violence prevention education throughout the community.
For 27 years, the Kindest Kansas Citian Awards Dinner has honored kind community leaders — special men and women who serve as outstanding role models in showcasing that kindness and compassion go hand in hand with success and accomplishment. This year, John Isenberg has been selected to join this distinguished group. 
"We are so grateful for John's commitment to the betterment of our community and pleased to be able to thank him on behalf of so many he has helped," said Synergy's Executive Director Robin Winner. "His willingness to work hard to make a difference in both the Jewish and secular world sets an excellent example of the impact kindness and caring can have in changing the world. 
Isenberg is a Kansas City native and after a successful 40-year career culminating as an executive leader in the electrical industry, he retired from Western Extralite/Border States in 2015. During his professional career, he served as a community activist, devoting his time to various civic and nonprofit endeavors both locally and globally. 
He has provided overarching direction and volunteer leadership to numerous charitable initiatives, including the American Israel Public Affairs Committee (AIPAC), Care of Poor People (COPP), and the Jewish Federation of Greater Kansas City. Currently he is the board chair of the Jewish Federation, where he devotes a majority of his time.  
"I've been so fortunate to be able to travel throughout Eastern Europe and to Israel and to see firsthand the difference our involvement here is making," Isenberg said. "It is an honor to serve and hopefully to leave the world a better place." 
Isenberg and his wife Jenny have been married for almost 35 years and have three children, Amy, Allison and Adam.
In addition to honoring Isenberg, Synergy will also present awards to 20 kind individuals nominated by students throughout the community, and will present the Rita Blitt Kindest School Award to Prairie Star Elementary School in the Blue Valley school district. The award is named in honor of Rita Blitt for her longstanding leadership in supporting the Kindest Kansas City celebration.
To learn more about the event, or reserve a spot at the celebration visit www.synergyservices.org.