Actress Dina Thomas returns to KC for 'I'm Gonna Pray For You So Hard'
Published: Thursday, 13 April 2017 14:20
Written by Jerry LaMartina, Contributing Writer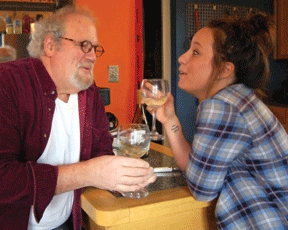 For Jewish actress Dina Thomas, returning to Kansas City is like coming home to family.
Thomas and her former teacher, Theodore Swetz, will star in the Unicorn Theatre's production of "I'm Gonna Pray For You So Hard," which runs April 19 through May 14. 
The two-person play by New York playwright Halley Feiffer also is about family: A competitive actress yearns to make her famous playwright father proud, but things start falling apart during the course of an evening when they read reviews of her off-Broadway debut. 
The play explores the minds of artists, addiction and a daughter's struggles to overcome her father's legacy.
Thomas said she was eager to join her former teacher on stage as a fellow actor. 
"I love that I get to do the play with Ted Swetz because I've known him about half my life," she said. "In the play, we're theater people, and it's about the complexity of the father-daughter relationship. It's layered, and a lot gets unraveled throughout the play."
Working with Swetz also underscores for Thomas the layers of their relationship, as former student and teacher, as friends and now as colleagues.
"It's pretty exciting, because it's rare when you're somebody's student that you get to see them practice what they preach in front of your face," she said. "It's not only me implementing the tools he taught me but getting to watch him implement them, too. All the lessons I learned from him are feeding the play. … His character says about his hero that he gets to absorb and absorb, and I'm absorbing from him."
Thomas is originally from West Orange, New Jersey. She studied for her Master of Fine Arts degree at the University of Missouri-Kansas City and her undergraduate degree at Binghamton University-State University of New York. Swetz was her teacher at both schools. 
"Kansas City is like a second home because I spent so much time here in grad school," she said. "When an opportunity like this comes up, you kind of drop everything and come back and do it. It puts the puzzle piece back in, and it's really emotionally fulfilling."
Jeff Church, the play's director who also works as The Coterie Theatre's producing artistic director, said that some people have called it a 'take no prisoners' play, meaning that Feiffer "doesn't shy away from depicting the way people really are."
"She never lets the play get squishy," he said. "What starts off as a night of a playwright father and his actress daughter staying up late to see the New York Times review of her first professional revue turns into a study of relationships, addictions (and) parents living their legacy through their children, and it takes us to surprising places."
The play's first scene gives a detailed look at the lives of this father and daughter during "a night of intake of substances, and then it jumps five years, and it's shocking to see where they are now," he said.
Church said he hoped the play would prompt audiences to think about themselves as parents and how they sometimes parent in ways that they think are good but that have bad effects.
"The big job for the director is to honor and dramatize the playwright's themes and theatrical ideas, but it's always up to the audience to add up all those elements and make meaning of it," he said. 
Thomas said that being Jewish "doesn't affect too much" how she approaches her acting in "I'm Gonna Pray For You So Hard." But her most recent visit to Kansas City was to perform in the Unicorn Theatre's production of "Bad Jews," and "it was so much about Judaism," she said. 
"I grew up really observant and religious, and here are these people who are really complicated and screwed up," she said. "The characters are New York Jews — ballsy, strong, opinionated, brash and no-nonsense. It's part of who you are. There's an ethnicity to them." 
"I'm Gonna Pray For You So Hard" is a "very surprising piece," she said. 
"People will have an experience that at some point, they'll see part of their family dynamic in it," she said. "It's super relatable about how we treat the people we love the most. It's a real mirror in some ways to family life."
Next up at The Unicorn
What: "I'm Gonna Pray For You So Hard," a two-person play by Halley Feiffer 
Where: The Unicorn Theatre's Jerome Stage, 3828 Main St., 
Kansas City, Missouri, 64111
When: April 19-May 14. Previews: April 19-21; opening night: April 22. Show times: 7:30 p.m. Tuesday, Wednesday and Thursday; 8 p.m. Friday and Saturday; and 3 p.m. Sunday. Pre-show events: April 28 and May 5. Talk-back performances for patrons to discuss the play with the actors and director after the show: April 25, April 30 and May 7.
Run time: About one hour and 20 minutes (no intermission).
Tickets: $30 to $40. For those unable to afford a ticket, pay what you can at performances on Tuesday-Thursday. To buy tickets, call 816-531-7529, ext. 10; visit www.unicorntheatre.org; or come to the box office. Discounts are available for seniors (65 and older), students and patrons younger than 30.