Kosher at The K: New specialty cart to offer New York-style Jewish favorites
Published: Thursday, 06 April 2017 10:04
Written by Barbara Bayer, Editor
Hot dogs. Get your KOSHER hot dogs here!
For the first time in 45 years at Kauffman Stadium, affectionately known as The K to Royals fans, those who keep kosher or enjoy New York-style Jewish deli food can chow down on kosher delicacies such as corned beef, pastrami and knockwurst. 
Kohn's Deli will make its debut on Wednesday, April 19, when the Royals face the San Francisco Giants at 7:15 p.m. The cart will be located on the main concourse between third base and home. 
Lenny Kohn of Kohn's Kosher Meat & Deli in St. Louis is operating the kosher cart, as well as a second cart on the Sabbath and Jewish holidays, this season at The K. The kosher cart, which will have Kohn's signage, is strictly kosher and overseen by the Vaad HaKashruth of Greater Kansas City and the Vaad Hoeir of St. Louis. The kosher cart will not open until after Passover, which this year begins a few hours after the first pitch is thrown at the Royals home opener on Monday, April 10.
The second non-kosher cart is called Coney Island Deli. It will be open on Shabbat (Friday nights and Saturdays) and all Jewish holidays, such as Passover and Shavuot (there is a Royals home stand on Shavuot.) The menu at the Coney Island Deli will be the same as Kohn's, but the food is not certified kosher.
"It essentially tastes the same as what's sold at the Kohn's cart," Kohn said while in Kansas City recently preparing for this venture.
Menu prices ranges from $4 for potato or meat knishes to $13 for the Monster Pastrami Sandwich and side salad or corned beef Ruben and side salad. Other menu items are the Monster Pastrami Dog and kosher knockwurst (jumbo beef hot dog). Beverages will also be available at the stand, including beer and bottled water.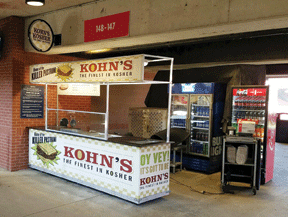 Kohn said he worked for seven years to get a kosher stand up and running at Busch Stadium. The stand opened in 2013.
"Once I got the Cardinals, my partner and I decided we wanted to expand our stadiums and it turned into another business," Kohn said.
He's been working with the Royals and Aramark, the team's concessionaire, for the past two years.
"They have been really good to work with. It doesn't always work that way," Kohn said about the negotiations.
The Royals feels the same way about Kohn, whose cart will be one of 20 specialty concession stands at The K this season.
"Lenny's enthusiasm for kosher food is already evident. But it's clear he really likes bringing this product to a sports venue where all sorts of people are ready to try new things, or try foods they're already familiar with," said Toby Cook, the Royals vice president of publicity.
Cook said the Royals had been approached for years by fans asking for more kosher items.
"But we also knew that people who never gave a thought to kosher at the ballpark would appreciate it because there's such a variety of foods. And the quality is as good as anything we'll serve around the stadium," he said.
In fact, Kohn expects a big crowd of non-kosher consumers.
"About 90 to 95 percent of our business in St. Louis is non-kosher people. I think people are drawn to kosher hot dogs, the Monster Pastrami is a big draw, and the Pastrami dog has turned into a really big item for us," he said. 
For those concerned about kosher, Kohn pointed out that there is separate equipment for the kosher stand and the non-kosher stand.
"We are not allowed to have any Jewish employees on Coney Island days," added Kohn, noting that the stand workers are employed by Kohn's, not Aramark.
Rabbi Mendel Segal, executive director and rabbinic supervisor of the Vaad HaKashruth of Kansas City, said the Vaad here is assisting Kohn screen applicants for the on-site mashgiach (kosher supervisor). A mashgiach will always be on hand when the stand is open and will be an employee of Kohn's. However, the mashgiach will be overseen by the Vaad here. The stand will also employ two to three other workers.
"This means we have to make sure the mashgiach is doing a good job because we are certifying the booth as kosher, along with the St. Louis Vaad. Since all the food is coming from St. Louis, we are doing it together," said Rabbi Segal, reiterating that the KC Vaad will handle all on-site supervision at The K.
Kohn explained that everything — the corned beef, the pastrami and the knockwurst —is fully cooked when it arrives at the stadium. These items will be put on a grill and cooked to order.
As Kohn considered opening a kosher stadium stand in Kansas City, he had the support of local attorney Michael Abrams, who's a longtime customer of Kohn's Deli.
"I've been bugging Lenny about doing this and trying to work with the Royals to make it happen," Abrams said. 
Kohn added, "Mike always comes into my store when he's in town and has lunch or dinner or both, and we always hit it off talking to each other. So when I started pursuing this, he was always there and wanted to help me get through the obstacles I was facing."
Kansas City was a good choice for expansion, Kohn said, "because it's within a range of solving emergency problems." The K is only a three-and-a-half-hour drive from St. Louis, where Kohn's has been operating since 1963 and is the only independent kosher butcher. 
Rabbi Segal said he's heard from a lot of people who are excited about eating at Kohn's deli at The K.
"I've had a lot of questions and a lot of people are excited about it. I'm looking forward to it personally. There are bigger Jewish communities that do not have kosher stands at games. It's pretty awesome for a kosher consumer to be able to go to a game and eat like a normal person. Plus, people love New York-style Jewish food, so that should also go over really well with the masses," Rabbi Segal said.
Kansas City is the 12th major league city to have a kosher food stand. In addition to Koh's stand in St. Louis, the other MLB teams with kosher food stands are the Baltimore Orioles, Boston Red Sox, Cleveland Indians, Los Angeles Dodgers, Miami Marlins, New York Mets, New York Yankees, Texas Rangers (select games only), Toronto Blue Jays and Washington Nationals. According to DansDeals.com, seven NBA basketball teams, eight NFL football teams and eight NHL hockey teams also have kosher food stands.
Both Kohn and Rabbi Segal said getting this all up and running so close to Passover has been a challenge. Kohn said he will be in Kansas City for the first series after the Passover holiday, and then expects to be at The K about once every three weeks. 
Visiting the new stand at The K is something Kohn looks forward to.
"As an owner and someone who works 65 to 70 hours a week, it's really a fun venue to work. It's not really like work when you are working there. In St. Louis we can't see the games real well where our stand is, but here we'll have a perfect view of the game."
As part of the Kohn's partnership with the Royals, a Jewish Day at The K is being planned. Stay tuned for more information.