April 20 program focuses on rich connection between Jews and Jazz
Published: Thursday, 06 April 2017 10:00
Written by KCJC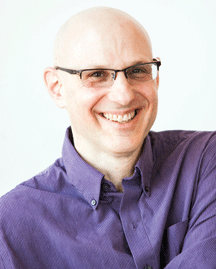 It's not exactly protest music, but jazz has deep roots as a vehicle for social change. Jazz bands offered some of the 20th century's brashest experiments in racial integration; jazz songs themselves seduced a narrow-minded America with slyly multicultural influences.
Jews helped drive that narrative — think Benny Goodman, George Gershwin, the producer Norman Grantz, or Barney Josephson, owner of the ground-breaking Café Society in New York's Greenwich Village. But the role of Jews as jazz pioneers had often been overlooked, or saw the Jews presented as caricatures like the rapacious club owners Moe and Josh Flatbush in Spike Lee's 1990 film "Mo' Better Blues."
That was until Cleveland State University Professor Charles Hersch started thinking it about it. Hersch will be here to explore this topic on Thursday, April 20, when the American Jazz Museum and the Jewish Community Center partner to bring the author to the American Jazz Museum, located at 1616 18th Street in Kansas City, Missouri. The evening begins with a 6 p.m. reception followed by Hersch's remarks.  Introducing him will be Rabbi Doug Alpert, spiritual leader of Congregation Kol Ami and former director of the Kansas City Jazz Commission. After his presentation, Hersch will sell and sign books and guests are invited to a live performance by trumpeter Stan Kessler. The evening is free and open to the public. 
Hersch has long studied the effects of the arts on society. In 2008, he completed "Subversive Sounds," a history of racial politics, jazz, and their intersection in New Orleans. Examining music in terms of ethnicity and race, he noticed that there were a lot of Jewish musicians in the jazz pantheon, but no one had written much about them and wondered what it meant for Jews to be aligned with an art form dominated by African-Americans.  Eight years later, he explores the answers in a new book, "Jews and Jazz: Improvising Ethnicity" (Routledge). The book looks at how Jews used jazz to both affirm and subvert notions of identity.
"Part of what I wanted to do in the book was do more justice to relations between Jews and blacks than I'd seen," Hersch said. "I'd read simplistic ideas of the affinity thesis — we've both suffered, the blues sounds like davening, et cetera. I wanted to get at the complexity of the relationship, and my research revealed a more satisfying thesis, which is that Jewish jazz musicians' identity exploration has been made possible by the shared hybrid and improvisatory nature of Jewishness and jazz."
In "Jews and Jazz," Hersch illustrates the way Jews used jazz as an art form — and commercial vehicle — and tracks how they were regarded in society at particular moments.
"Jews were shut out of a lot of professions in the early 20th century, so they went into entertainment," Hersch said. "They used music to play with, express, and explore their Jewish identities. And how they did that, changed over time."
As jazz arose in the late 1920s and early '30s, Hersch explained, "Jews weren't considered fully American or fully white." Gershwin and the Tin Pan Alley composers created "melting pot" compositions" that incorporated a range of ethnic genres — and made an implicit case for acceptance.
"Through musical forms, they wanted to create an America that was safe for Jews," Hersch said.
In the 1930s and '40s, Jews began to engage with black musicians at a time when such interactions were still taboo. But — as if to highlight the complexities of identity at a fraught time — their Jewishness had little to do with their beneficence, Hersch said.
"Benny Goodman and Artie Shaw were hiring black musicians, but they didn't do it as Jews or in the name of Jews," he said. "Goodman thought a lot about equality. He was appalled by some of the injustices of keeping blacks out of certain bands, not being able to hire [famed pianist] Teddy Wilson or [legendary instrumentalist] Lionel Hampton. He always put it in terms of, 'I just wanted to hire the best musicians'".
In his book Hersch explores the motivations of  the Jewish musicians, considering altruisim, the desire for notoriety, and a sense of what sells records.
"Goodman eventually hired Hampton as part of a small breakout group, but it was still controversial and cost him money," Hersch said. "The producer Norman Grantz lost millions of dollars because he wanted to take a group of jazz musicians on tours, and southern venues wouldn't let him take black musicians — and they wanted to segregate audiences. So it's hard to make the case that they were doing it for financial reasons."
Still, Hersch characterized the black-Jewish alliance as "a fraught relationship."
"There was always a tension there. Sure, there were Jews who took advantage of black musicians. But they loved the music, and helped spread it. Of course they wanted to make money, but they also put out music they knew wouldn't make money." 
Hersch cited the example of Blue Note Records, the seminal label founded by German-Jewish refugees in 1939, "which put out some of the best jazz recordings that have stood the test of time."
Pressed to choose just one song that best symbolizes the contributions of Jews to jazz, Hersch doesn't hesitate.
"One thing that kept popping up over and over is [circa 1932 Yiddish standard] 'Bei Mir Bist du Schoen,' " Hersch said. "It's a Yiddish song written by Sholem Secunda. Someone hears it being sung by a couple of African American musicians, with English lyrics. It becomes a big hit for Benny Goodman, who throws in a klezmer section. Then, an African-American musician named Slim Gaillard covers it as 'Bei Mir Bist du Pork Chops', substituting food imagery throughout the song. A ton of other musicians do their own version."
The song, a huge hit for the non-Jewish Andrews Sisters in 1956, became an "anthem" for American Jews, Hersch writes, who saw in the song's success a sign of their growing acceptance by the majority.
The Jews-and-jazz story isn't just a history lesson. As Hersch vividly points out, contemporary jazz has become a means to"think about Jewish identity in a multicultural world. "Jewish musicians", Hersch points out, " say things like, 'Yes I'm a Jew, but I grew up in New York City, so have all kinds of influences. So let me create music that explores my full identity, an urban identity in a multicultural world.' "
For more information about this program, contact Jill Maidhof, director of Jewish Experiences at The J, 913-327-8077 or email her at This email address is being protected from spambots. You need JavaScript enabled to view it..
This article was largely reprinted with permission from an article by Michael Kaminer that first appeared in the London-based Jewish Chronicle.