Listening Post
Published: Thursday, 06 April 2017 10:00
Written by Barbara Bayer, Editor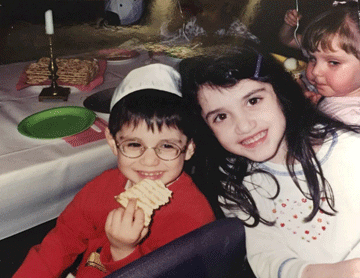 CHABAD PLANS COMMUNITY SEDERS — Experience the freedom of Passover the way our ancestors did in a warm interactive Passover seder open to community.
The following locations will be offering full dinner seders, led by a Chabad rabbi, at 8 p.m. on Monday evening, April 10:
The Shul of Leawood, 5051 W. 134th St. Reservations are available by calling 913-205-9524 or emailing This email address is being protected from spambots. You need JavaScript enabled to view it..
A seder geared to the Russian Jewish community will take place in the banquet room at Santa Fe Towers Apartments. For more information or to RSVP email This email address is being protected from spambots. You need JavaScript enabled to view it..
Chabad on the Plaza will host young professionals and other members of the Kansas City community. For location and to reserve a spot visit plazachabad.com or call 816-979-1751.
Community seders will also be available to Jewish students and members of the community in Lawrence, Kansas, and Columbia, Missouri. Visit chabadkc.org or call 913-649-4852 for more information.
A second seder will also take place Tuesday evening, April 11. For more information contact Blumah Wineberg at 913-940-1113.
PASSOVER EXCITEMENT TURNS TO DISAPPOINTMENT — Regular readers know I like Facebook. I saw several new Passover products from Manischewitz pop up on my news feed that looked interesting, specifically Matzo Pizza and S'more Matzo Kit. Now I've made matzah pizza many, many times and don't really need a kit, but I had never considered making matzah s'mores. I decided it was time to tour some of my favorite Passover sections at our local grocery stores. I won't mention names because I visited some very loyal Chronicle advertisers, but I couldn't find what I was looking for. (Don't worry, I didn't walk out empty handed!) Now I was wondering, am I too late? Did they sell out? So … I contacted Manischewitz to see if these products are available anywhere in the area. To my disappointment, when the customer service rep did a zip code search, it came up empty for the new products. But, she told me, if our readers ask for these products and other new Manischewitz products in the future (should work for other brands as well), maybe these stores will order them next year. I'm going to put in product requests. I hope you do, too!