Three generations of Gould Family give to community: Goulds to receive Light of Hope Award at Jackson County CASA event
Published: Thursday, 30 March 2017 10:00
Written by Lauren Fasbinder, Special to The Chronicle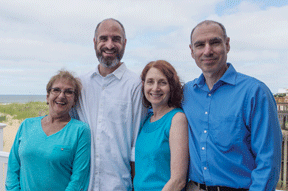 A family committed to giving generously to help abused/neglected children will be honored when the Gould Charitable Foundation receives the Light of Hope Award on April 5. The award will be presented to Donna Gould Cohen and her children — Karen Gould Courtney, Matthew Gould and Joel Gould — in front of nearly 1,200 people at the city's largest fundraising breakfast, the Light of Hope, which benefits Jackson County CASA (Court Appointed Special Advocates).
Donna and her children are trustees of the Gould Charitable Foundation established in 1988 as a memorial to Robert L. (Bob) Gould. A leader in the financial industry, Gould made a name for himself by creating innovative programs, fostering new ideas, and encouraging newcomers to the industry. He and Donna left their hometown of Boston and moved to Kansas City with their children when Bob became President of DST. Just a few short years later, Bob Gould passed away.
The Gould Charitable Foundation was established to carry on Bob's legacy of charitable giving.
"My father-in-law was in the insurance business and went door to door picking up 15 cents or 25 cents a week," said Donna Gould Cohen. "He made $15,000 a year at the most. But he never turned away a donation request, and that was what my husband learned. The foundation is continuing what he learned from his father."
Because the Gould children were teenagers at the time they lost their father, the Foundation took a special interest in programs that serve children in difficult circumstances who have suffered loss.
When Martha Gershun, the daughter of one of Gould Cohen's closest friends, the late Gloria Gershun, became executive director of Jackson County CASA, Gould Cohen grew in her awareness of how the program serves abused/neglected children. Gould Cohen had hosted Gloria Gershun and her grandchildren (Martha's children) for many Passover "children's seders" and was intrigued by CASA's work. She also knew of CASA because another of her close friends, Ann Stern, one of CASA's earliest volunteers through the Kansas City chapter of the National Council of Jewish Women, had been recognized with the Light of Hope Award.
Jackson County CASA volunteers — with the support of the agency's staff — work to provide critical information to judges, helping them make the best possible decisions regarding where abused/neglected children should live and what medical, therapeutic, and educational services they need. 
This year, Jackson County CASA volunteers will advocate for 1,250 children. Sadly that is less than half of the children under court protection in Jackson County.
Kids who have a CASA volunteer are less likely to be re-abused and more likely to find a safe, permanent home. For the past five years, 95 percent of the children with a CASA volunteer had not re-entered the child welfare system in Jackson County.
The Gould Charitable Foundation has become one of Jackson County CASA's strongest supporters. In addition to funding critical technology upgrades over the years, it was the first funder to help support services to children based on their age — an innovative new approach that has significantly improved Jackson County CASA's advocacy for children and youth.
Matthew Gould and his family have found an additional way to help the abused/neglected children served by Jackson County CASA.
"When I started talking with Martha Gershun," recalls Matthew Gould, "she started telling me these horrible stories of kids who have nothing. They go from home to home, foster care to foster care, with essentially the clothes on their back and whatever toys might be in the new foster home. I saw this as a great opportunity to pass on our love of LEGO."
Gould founded the nonprofit The Giving Brick. With the help of sons Ian, Noah and Adam, they refurbish and repackage donated used LEGO bricks and turn them into sets that bring some happiness to abused/neglected children served by CASA. "Our CASA volunteers tell us these LEGO gifts become treasured possessions for children in very difficult circumstances," Gershun said.
Gould Cohen said it gives her great pleasure "to see the next generation is now giving back" to help abused and underprivileged children. "It's been a wonderful thing to see them learn the whole idea of charity," she said.
While Gould Cohen's other grandchildren and her son Joel live outside Kansas City and will not be able to attend the Light of Hope event, Matthew's wife Erin and children will be there, along with Karen Gould Courtney and her husband Larry, as Gould Cohen and the entire family are honored for their legacy of giving. Gould Cohen also hopes to inspire the continuation of their family's philanthropic heritage by inviting her grandchildren to attend Gould Charitable Foundation meetings where grants are considered. 
Donna Gould Cohen said that it's been rewarding to see her family draw together to help others and to now watch her grandchildren learn about the value of giving. 
"To see how we can help a city that's been very good to my family, it's been a wonderful thing," said Gould Cohen, a founding member of Congregation Beth Torah. "I wish we could do more."
Jackson County CASA's Gershun said they are grateful to the Gould family for helping the children they serve in so many different ways. 
"Their generosity has made it possible for us to serve more of our most vulnerable children and made a significant impact on our community. We are honored to present the Gould Charitable Foundation and The Giving Brick with the 2017 Light of Hope Award and share the Gould's family story with the community."
To attend The Light of Hope Breakfast, which will be held from 7:30-8:30 a.m. April 5 at the Sheraton Crown Center, 2345 McGee, email This email address is being protected from spambots. You need JavaScript enabled to view it. or call 816-984-8202. Networking will be from 7-7:30 a.m. There is no cost to attend, but it's hoped that those who attend will be moved to donate. 
For more information about the Gould Charitable Foundation, visit www.gouldgiving.org.
For information about becoming a CASA volunteer, visit www.casakc.org.