SevenDays 2017 expands to spread interfaith, kindness message; walk to begin at Union Station
Published: Thursday, 30 March 2017 10:00
Written by KCJC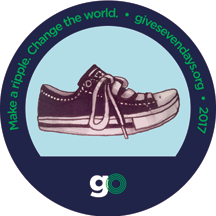 Interfaith discussions, blood drives, organ donor registration and a communitywide Faith, Love & Walk are just some of the activities planned for the 2017 SevenDays® Make a Ripple, Change the World. The series of events begins Tuesday, April 18, through Monday, April 24.
Now in its third year, SevenDays is an effort to embrace diversity across races, religions and cultures. SevenDays focuses on overcoming tragedy produced by hatred, bigotry and ignorance. It continues the healing journey following the murders that took the lives of Dr. William L Corporon, MD, his grandson Reat Underwood and Teresa LaManno outside of Jewish facilities in April 2014. The three lost their lives at the hands of a convicted Neo-Nazi gunman. 
Sponsored by the Faith Always Wins Foundation and LaManno-Hastings Family Foundation in partnership with several organizations, SevenDays promotes interfaith dialogue by engaging all people to discover commonalities and overcome evil with acts of kindness. Everyone has the power to make a ripple and change the world.
Several pre-events are building up to SevenDays including:
• Friday, April 7, 5-8 p.m.: SevenDays First Fridays Art Show — An evening celebrating kindness, faith and community. The event includes a showing of works by various local artists, live music and refreshments, the opportunity to meet people of various faiths and other surprises. (Location: 1707 Locust, Kansas City, Missouri)
• Monday, April 17, 5-7 p.m.: Kendra Scott Gives Back Party — Enjoy sips, sweets and jewels with 20 percent of proceeds benefitting SevenDays (Location: Kendra Scott store, Town Center Crossing, 4533 W. 119th Street, Leawood)
SevenDays of Kindness
Each of the SevenDays has a theme with special activities and programs associated with them, beginning Tuesday, April 18, with Day One — LOVE. These events provide an opportunity for participants to engage in person as well as digitally; the majority of events are free and open to all.
The SevenDays 2017 line-up includes*:
• DAY ONE: LOVE (Tuesday, April 18, 6:30-9:30 p.m.) — Celebration with songwriting, kindness essay and button award presentations. Google is the sponsor of the kindness essay contest. Evening will include "Commonalities Within Our Faiths," a panel including a local rabbi, imam and pastor (Location: The Temple, Congregation B'nai Jehudah, 12320 Nall, Overland Park)
• DAY TWO: DISCOVER (Wednesday, April 19, 5:30-8:30 p.m.) — American Public Square Dinner and panel "Violence, Community and Faith: Connecting the Dots," panelists include Barry Grissom, former U.S. Attorney for Kansas; David Haley, senator, Kansas District 4; James Jacobs, law professor, New York University; Jolie Justus, Kansas City, Missouri, city councilwoman-District 4; Mark Levin, founding rabbi, Congregation Beth Torah; and Rosilyn Temple, founder/director, KC Mothers in Charge. Reservations are required for dinner. (Location: Pierson Auditorium, UMKC Campus, 5100 Rockhill, Kansas City, Missouri) 
• DAY THREE: OTHERS (Thursday, April 20, 6:30-9:30 p.m.)– Keynote presentation, "An Unbroken Bond" featuring Edie Lutnick of the Cantor Fitzgerald Relief Fund established after the 9/11 terror attacks; sponsored by Garmin. (Location: Church of the Resurrection-Wesley Chapel, 13720 Roe, Leawood) 
• DAY FOUR: CONNECT (Friday, April 21) — Blood Drives (all day) at all six Community Blood Center locations (employee blood drives will take place at all St. Luke's locations-daytime); Hispanic outreach event featuring a talk by Mindy Corporon, "Life: A Good Thing to Give," about Organ Donation (presented in English and in Spanish; 6:30-9 p.m. at St. Antony's Catholic Church, 309 Benton Blvd., Kansas City, Missouri)
• DAY FIVE: GO (Saturday, April 22) — "Lunch and Punch" T.A.K.E. Self Defense Workshop (10 a.m. at University Academy); Therapeutic Improv Workshops: "How Improv Breaks Down Barriers and Infuses Fun into Mental Healthcare: A Hands-On Workshop" for youth (1-4:45 p.m.) and educators/therapists (4:45-9 p.m.; Location: Church of Latter Day Saints, 15915 W. 143rd St., Olathe)
• DAY SIX: YOU (Sunday evening, April 23, 5:30-8 p.m.) — Youth Interfaith Dinner and Workshop for students ages 14-20 to interact and learn skills for finding common ground around shared values on which to build collaborative efforts of social action. (Location: Cleveland University, 8205 W. 108th Terrace, Overland Park)  
• DAY SEVEN: ONWARD (Monday, April 24, 5:30-8 p.m.) — Faith Love & Walk beginning and ending at Union Station; sponsored by CommunityAmerica Credit Union. Pre-walk activities planned by Youth Advisory Board and hosted by Former Kansas City Chief Trent Green. Various charities will have informational tables. Food trucks will be on site for participants to purchase refreshments. There is a $10 walk participation fee (those 5 and under are free) that includes a commemorative SevenDays T-shirt (if registered by April 10); walk registration is available at www.givesevendays.org.
Community groups and organizations are invited to create their own ways to participate and share their activities through SevenDays social media sites using #givesevendays. Additional information about the themes, activities and sponsored events will be continuously updated on the SevenDays website.
SevenDays Buttons, Youth Board & Competitions
Each of the SevenDays has a commemorative button associated with it. 
A signature of SevenDays has been giving out colorful buttons with designs reflecting each day's theme. Designs from eight different students were chosen through a competition held last fall. The student artists will each receive a $250 award for their design. Buttons are available through the SevenDays website and at various SevenDays events.
The SevenDays Youth Advisory Board is playing an integral role in all of the programs and activities. These students come from a variety of faiths traditions including atheist, Christian, Hindu, Jewish and Muslim, reflecting the importance of diversity in making change.
The second annual SevenDays Make a Ripple, Change the World Scholarship competition for high school seniors is under way; the competition is sponsored by Google. Five $1,000 scholarships will be awarded to seniors who create a project addressing one or more of the SevenDays themes, execute it and submit an essay about its impact. 
Music is a universal language with tremendous healing powers. The third annual Faith, Love & Song songwriting competition, sponsored in partnership with the RRACE (Racial and Religious Acceptance and Cultural Equality) Foundation, is under way. Those ages 14 to 21 were invited to submit original music compositions that address the subjects of racial, religious, and/or cultural equality and acceptance. The 10 finalists submit videos of their compositions with the public voting on them via YouTube April 1-9. The top three winners will be announced at SevenDays Kickoff Celebration The winner of the competition will receive the $5,000 RRACE Scholarship. Second place will receive a $2,500 scholarship and a $1,000 scholarship will be awarded for third place. 
A variety of volunteer opportunities are available for SevenDays; those interested are urged to regularly check the website for details and registration. 
The Faith Always Wins Foundation and The LaManno-Hastings Family Foundation are equal beneficiaries of net proceeds and donations of SevenDays to continue this important work. Donations are tax deductible.
For more information about SevenDays®, contact Ruth Baum Bigus, 913-707-7746 or at This email address is being protected from spambots. You need JavaScript enabled to view it.. Additional information is also available at www.givesevendays.org.