'Spring Session' concert features local composers
Published: Thursday, 23 March 2017 10:00
Written by KCJC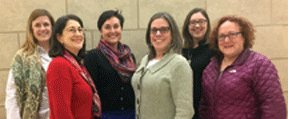 Congregation Beth Torah will host the second annual "Spring Session," a concert featuring 100 percent original Jewish songs by local composers, at 3 p.m. Sunday, April 2, under the direction of Beth Torah Music Director Emily Tummons. Cantors, rabbis, music directors and other musicians will join forces to present 23 songs by 17 songwriters from the Greater Kansas City Jewish community.
The first concert, held last spring, included 80 performers from Congregation Ohev Sholom, Kehilath Israel Synagogue, Congregation Beth Shalom, The Temple, Congregation B'nai Jehudah, the Lawrence Jewish Community Congregation and Congregation Kol Ami in addition to Congregation Beth Torah. Of the 14 composers, whose new music was performed that year, only five were from Beth Torah. Of the 17 composers whose new music will be performed this year, only seven are from Beth Torah.
Beth Torah Senior Rabbi Javier Cattapan is a musician himself, and he will be one of the featured performers this year. Rabbi Cattapan believes strongly in the goals of this event, one of which is to nurture bonds within the Kansas City Jewish community across congregations.
"Here at Beth Torah, one of our pillars is creative worship and music. We know that Jewish identity is vastly enriched by Jewish music," the rabbi said. "And we've got a long history of offering outstanding music programs and opening our programs to the whole community, beyond CBT. It will be such a pleasure to host all these composers from all over the Greater Kansas City area."
Beth Torah Founding Rabbi Mark Levin agreed, and commented on how many different congregations and different composers were all brought together under one roof last year.
"Who knew there were so many composers producing such high-quality Jewish music in just our city," he said.
Tummons has partnered again this year with Beth Torah Choir Director Carmen Dieker in working behind-the-scenes with several of the composers to bring their songs to life, especially those composers who don't see themselves as performers or who are interested in fresh arrangement of their songs. Other area vocalists and instrumentalists, including Hazzan Tahl Ben-Yehuda, Rabbi Javier Cattapan, Randy Deutch, Weber Ingersoll, Lara Steinel, Rabbi Scott and his Musical Friends, and several Beth Torah ensembles will also lend a hand in performing these original compositions.
"The talent in this town is staggering," Tummons said. "Carmen and I are lucky to get a front-row seat, watching these magnificent songs sprout up all year long. These composers are so prolific. Our one little concert a year can't come close to capturing all the beauty and richness these people generate. What we hope is that this concert sets the community's passion for Jewish music on fire. We want the community to leave the concert feeling proud of our town, and feeling motivated to support these amazing songwriters with gusto." 
This year's texts and themes include Shabbat liturgy, modern Israeli poetry, Yizkor, Hanukkah, psalms, original poems, kids' songs, a prayer for healing, and even a new niggun, all set to new, original melodies.
There is a $5 suggested donation, and a dessert reception will follow the concert. For more information about this event, contact Tummons at This email address is being protected from spambots. You need JavaScript enabled to view it..
17 Composers to Be Featured at 2017 'Spring Session'
Jim Abel
Rachel Black
Carmen Dieker
Coleen Dieker
Jill Fine
Kris Gray
Howard Iceberg
Tim Intfen
Cantor Sharon Kohn
Stu Lewis
Rabbi Jonathan Rudnick
Linda Salvay
Warren Sickel
Roberta Solomon
Emily Tummons
Rabbi Scott White
Lezlie Zucker