LJCC to host 'An Evening of Song and Opera'
Published: Thursday, 23 March 2017 10:00
Written by Hayley Berger, Special to The Chronicle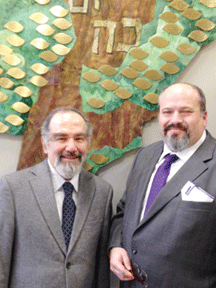 The Lawrence Jewish Community Congregation will host "An Evening of Song and Opera," a musical event with cantor Benjamin Matis and pianist Jack Winerock at 7:30 p.m. Sunday, April 2. Together the two will perform a wide mix of music from Italian opera, to Yiddish and Broadway theater, to traditional cantorial songs.
Matis, a classically trained tenor and cantor, and Winerock, a Juilliard-trained classical pianist and chair of the KU Piano Division, met over the summer and, upon finding their mutual love of music, decided to put on this event to help the local Jewish community while having a good time. 
"It's a project of great love for both of us," Winerock said. "It's wonderful to have Benjamin here; he's really a great cantor. And of course when we met each other, we thought, 'Well why don't we do something together?' We enjoy traditional songs, opera ... I mean it's quite wonderful. I'm thrilled to do this with him." 
While the Italian opera and Yiddish theater music may not seem related, the two men chose music they loved to perform to make the show more engaging for the audience. When selecting music, they chose their favorites from opera and theater, as well as a few traditional cantorial pieces, because you "can't have a cantor and no cantorial pieces," as Matis put it. 
The two got the idea for the mix of opera and Jewish and Yiddish music from back home in New York, where many famous opera tenors were Jewish men who had also been cantors.  
"So we thought, well, Saturday morning services, [the] cantor, and Saturday night [is] opera at the Met," Winerock said. "That was the connection and inspiration there."
Along with the appreciation the two have for these different types of music, they also saw a need for an event like this in the community. While you can go to synagogue to hear some of this music, Matis and Winerock wanted to create an experience to really immerse people in the tradition of Jewish music. 
"There aren't Jewish music opportunities here because there aren't people performing it. It's important to keep tradition alive. Even if it is out of the synagogue, at least somewhere people know it exists," Matis said. "This [music] is a tradition that should not die, and that's the importance I think." 
Matis also said his own love of Judaism and desire to become a cantor came from seeing and hearing this music. While growing up, he wasn't as close to his Judaism, but he really connected to Jewish history and tradition through the music. In his role as a cantor and later in his musical endeavors, such as with Winerock, he wants to help connect others to the love that he and Winerock both found in these musical pieces.
The two said the show really is for everyone who is interested. They both said they would enjoy seeing people from the Kansas City community, as well as KU students, attend the show, and they think everyone can get something out of the performance.  
"There's something for everyone in this program," Matis said. "The other goal is to raise some money for the synagogue, and, as a Jewish person who believes in the importance of having Jewish institutions survive, I was happy to do this as a fundraiser."
Tickets are $35 and can be purchased on the LJCC's website: www.Lawrencejcc.org or at the door. All proceeds will go toward supporting the LJCC and its programming. A reception will follow the concert. This event is sponsored by Crown Toyota of Lawrence.
"I'm excited to get up and perform because I miss it and especially with a great musician behind me. There's nothing like it," Matis said.