HBHA program book a tribute to Seymour Krinsky
Published: Thursday, 23 March 2017 10:00
Written by Jane Martin, Special to The Chronicle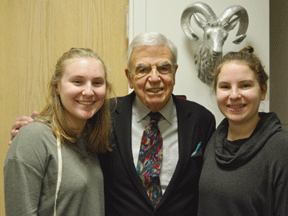 The faces of students and staff light up when Seymour Krinsky walks into Hyman Brand Hebrew Academy. Whether he visits one of his three grandchildren who currently attend the school, or stops in to show HBHA off to a friend or a donor, Krinsky makes it a priority to stay connected with the school, the staff and the students.
To say he is a mensch is an understatement.
"Seymour brings out the best in everyone he meets. Whenever he visits the school, he has a smile, a story or a hug to share. He loves life and enjoys socializing with and learning from others," said HBHA Head of School Howard Haas. 
"We are so appreciative of everything Seymour does for our students. Personally, I find him an inspiration. Supporters like Seymour set the stage for a positive future for our Jewish community," he added. 
For these reasons and more, HBHA is dedicating its program book for this year's Civic Service Award Celebration to Krinsky. This annual event is on Sunday, March 26, at the Nelson-Atkins Museum of Art, with a cocktail dinner by Lon Lane's Inspired Occasions beginning at 5:30 p.m. Reservations can be made at www.hbha.edu, "our next chapter," or by contacting Kerry Cosner at 913-327-8156, This email address is being protected from spambots. You need JavaScript enabled to view it..
Krinsky is a devoted husband, father and grandfather. He takes great pride in his family, and always makes the effort to be involved with each of his grandchildren. In fact, he says he joined Facebook to stay up-to-date with the activities of friends and family, and he regularly texts his grandchildren to check in with them.  
Krinsky and wife Marsha's door is always open to family and friends. Granddaughter Kayla Goldenberg, currently a junior at HBHA, worked on a yearlong school assignment that brought her to her grandparents' home each weekend. The assignment long over, Kayla says she still visits frequently because she loves the special time with them. 
"He is very caring and patient with everyone, and I think that resonates with his children and grandchildren," said daughter-in-law Missy Goldenberg, a Lower School learning specialist at HBHA. Missy's husband Jeff Goldenberg is not only an HBHA alum but also its current board treasurer.
"Seymour was so supportive of me, my brother and my sister throughout our years at the Hebrew Academy. He never missed a chance to ask us how school was going, talk to us about what we were learning, or just stop by and say hello between classes. His encouragement continues undiminished to this day. It's been incredible to have that in our lives," said grandson and HBHA alum Jon Arlan.
HBHA seems to be the embodiment of Krinsky's values. A longtime supporter of education and the Jewish community, he is dedicated to passing along Jewish traditions, so he gives of his time, talent and resources to ensure the school remains a strong institution. 
"In all of our literature, nothing is more important than the study of the Torah and its relation to good deeds," Krinsky said.
"Seymour is such a champion of our school … always willing to lend a hand to ensure that we succeed in so many ways. From fundraising to recruitment to general advocacy, we are so fortunate to have him as a partner," said Tamara Lawson Schuster, HBHA director of admissions.
Krinsky's interest in HBHA runs deep. According to lifetime trustee and past board president Carl Puritz, Krinsky was one of the original community members Puritz's uncle Hyman Brand called for financial support when the school was in its inception. In addition, along with Krinsky's son Jeff Goldenberg, siblings Rich Goldenberg and Shira Zigler are alumni. Four grandchildren, Jon Arlan, Zach Arlan, Sara Arlan and Elana Goldenberg are graduates and three more grandchildren, Kayla Goldenberg, Mirra Goldenberg and Orli Zigler are current students. One more grandchild, Raya, will begin next fall in kindergarten. 
"Bapa has a big heart and a lot of love to give. I think he gets as much love as he gives," said Kayla Goldenberg, one of Seymour's 19 grandchildren.
"Each Friday, Bapa calls Kayla and me to see if there are any leftover STUCO (Student Council) doughnuts and bagels to purchase. He is always doing things like this to support whatever we're working on at the moment. It's nice to know he's there to help our student council and us," said granddaughter Mirra Goldenberg, currently a ninth-grader at HBHA.
"He would be a perfect Mensch of the Week candidate," said Kayla. "I would love to give him his own medal." The Mensch medal is given by Howard Haas at HBHA's weekly Taste of Shabbat program. It recognizes a student who shows kindness, good deeds and concern for others.
"He is incredibly proud of his grandchildren, and watching them learn, grow and ultimately graduate from HBHA brings him a great deal of naches (joy)," Jeff Goldenberg said.